The Washington Redskins Cheerleaders (WRC), also known as the First Ladies of Football, have chosen as a team to dedicate much of their time and energy to military service men and women and their families.  Since the 1970's we have visited the injured at Walter Reed National Military Medical Center.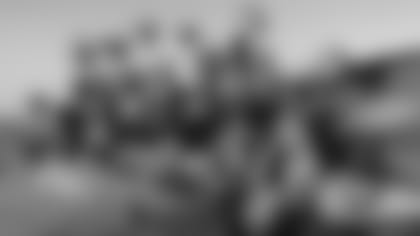 1983 was our very first service to the Armed Services overseas in which we filmed a 64-second Christmas greeting.  It was broadcasted regularly during the Holiday season through the Armed Forces Radio and Television network around the world, and was seen on all the deployed ships through their closed circuit television system.  The First military tour overseas was in 1984, entertaining the armed forces in Turkey, Italy, Sicily, Spain, and the 6th fleet off the coast of France.   As of August 22, 2016 we have been on more than 52 tours outside the US to bring a touch of home to all the men and women around the world.
The women of WRC truly enjoy volunteering their time to visit and entertain our troops and military families several times a year; and especially during tough holidays to be away from home like Thanksgiving and Christmas. The First Ladies of Football were the first entertainers to go to the front lines of the Kosovo War in July of 1999 and also the first entertainers to tour the entire country of Iraq in one tour; visiting 20 FOB's and Camps.