Lloyd Lighter, of Boonsboro, Md., recently turned 93 years old, but he can remember every single Redskins game since the team moved to Washington in 1937. Except for one.
"My first date with my wife was a Redskins game," Lighter said on his first visit to Redskins Park on Tuesday. "She worked at the same company that I did. I asked her if she had a car. She said yes she did. I said, you furnish the car, I'll furnish the tickets and we'll go to a Redskins football game. Don't ask me who played because I don't remember."
That's a rare occurrence for Lighter, whose first taste of football came as a water boy for the Redskins just before the 1937 season. He and a few friends visited Fairline Park in Anacostia, where the team would practice, and asked if they could supply drinks to the players.
The weekend before the first game at Griffith Stadium, before Lighter had to return to high school, he was on the field shagging punts from Sammy Baugh. It was then his fandom began to blossom into its extreme form.
"My aunt and uncle lived two blocks away," he said. "We decided to go up to investigate and asked if they needed any water boys. So we spent a couple weeks carrying water around and things like that. I didn't meet Sammy Baugh until about two weeks later."
Lighter would travel with the team, too, hopping on the Redskins' train up to New York or Cincinnati, or Cleveland, where he remembers it being extremely cold for the 1945 championship game against the Browns.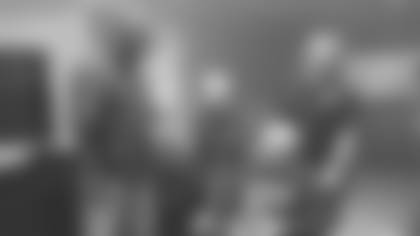 He got season tickets in 1941 and never missed a home game for 20 years. He enjoyed the way the team's owner George Preston Marshall put on halftime shows and ceremonies with the Redskins marching band. He developed a family of fans sitting around him all those years and can still recall the rosters of old.
If he was watching on television, however, family members had to respect the quiet zone in the living room. If the Redskins weren't performing well, the silence would be broken with some yelling.
"Oh yeah," Lighter said, remembering his enthusiasm. "[My daughter Susie Watson] told my grandchildren, 'When you walk in the front door, say hello granddaddy and keep on going.'"
"We were told growing up that you didn't get married, you didn't get sick, you didn't do anything on Redskins day," said Watson, who accompanied him Tuesday with a few family members.  "The first time I got engaged he said, 'I don't care when you get married, just make sure it's not during the Redskins season.'"
Some of those rules have loosened at this point, but it's still quiet on game days in the Lighter home. Supper must be already served before the opening kick-off.
Which is to say that Lighter is just as devoted to the Redskins today as he ever was.
For some perspective, he remembers Sammy Baugh leading the Redskins to their first victory over the Giants, and Griffith Stadium going nuts. Thursday night, he'll watch the Redskins take on the Giants again, rooting on a new generation.
"Matt Jones is a good rookie," Lighter said." I think he's going to be a lot of help to us."
Lighter's interview on "Redskins Nation" with Larry Michael will air Tueday night.