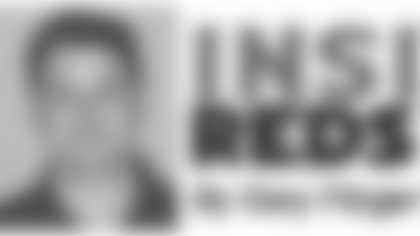 Shawn Springs and DeAngelo Hall are expected to start at cornerback for the Redskins this Sunday, defensive coordinator Greg Blache said.
It's the second consecutive week that Springs and Hall start for the Redskins, replacing Carlos Rogers and Fred Smoot.
Rogers had started 13 games this season and Smoot had started nine games. Now they must serve as part of a rotation and in nickel and dime packages.
"My job is not to keep everybody happy," Blache said. "The cornerback thing--I know they're not all going to be happy, but like I say that's not my position. They have to understand we're trying to get the best matchups and we're trying to win football games."
Springs is fully healthy again after missing seven games due to a calf injury. He has 25 tackles, one sack and one interception this season.
Hall joined the Redskins on Nov. 9 and has gradually worked his way into the lineup. He has proven himself as a playmaker, logging two interceptions and a fumble recovery in his first five games as a Redskin.
Rogers has recorded 49 tackles, one interception and a fumble recovery this season. Smoot has 52 tackles and one interception.
Rogers was coming off an illness that sidelined him for two practices last week. Coaches believed he wasn't ready for a full workload heading into the Bengals game.
There was another lineup change last Sunday when Rocky McIntosh was sidelined for the second half of the Cincinnati game.
The move was made to give him a rest, Blache said. Alfred Fincher replaced him in the lineup.
McIntosh has started every game this year after returning ahead of schedule from knee ligament surgery last offseason.
"Rocky is the only guy that has been at every practice and every game, and he has been playing hurt all year," Blache said. "It wears and tears on your body."
Blache emphasized that McIntosh was not benched.
"The thing with Rocky was strictly about trying to win a football game," Blache said. "It had nothing to do with Rocky's playing ability."
Regarding the Redskins' fall from the NFC playoff race the last three weeks, Blache said it was disappointing but emphasized the team has to keep competing.
"The secret is not to sit around here and have a pity party," he said. "Winners don't do that. You have to get on up, you have to continue to fight and you have to figure out where you can improve. That's what we have to do as a football team. We have to get up off the mat and go in on Sunday and compete hard.
"We have to be able to finish strong. The one thing I tell my guys is that it's about the competition and it's about competing as a man. It's about having some class and having some dignity. That's what I expect from my players."
Through 14 games, the Redskins' defense is ranked fifth overall, 10th against the run and sixth against the pass.