Second-year linebacker H.B. Blades underwent arthroscopic knee surgery on Tuesday morning, head coach Jim Zorn said.
Blades is expected to be sidelined 3-4 weeks.
"It was an injury that happened on Monday," Zorn said. "In practice, he planted, no contact, and he just tore a little meniscus. We are trying to get him back as soon as we possibly can."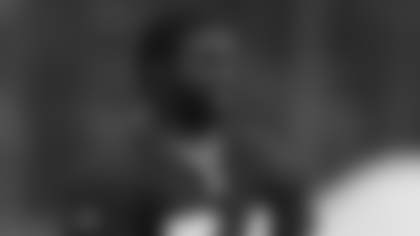 H.B. Blades (Don Wright Photo)
Blades, the Redskins' sixth-round draft pick in the 2007 NFL Draft, played in last Saturday's intra-squad scrimmage and recorded three tackles.

In his rookie season last year, Blades logged 16 tackles on defense and 13 special teams tackles.

With Blades sidelined, the Redskins are somewhat thin at linebacker.

The team is expected to turn to Khary Campbell as the backup middle linebacker for Sunday's preseason game against Indianapolis.

Matt Sinclair, a second-year player, can also play middle linebacker.

The Redskins are already without linebacker Rian Wallace, who fractured his hand in last Saturday's intra-squad scrimmage.

For Monday's practice, the Redskins were also without Anthony Montgomery (hand), LaRon Landry (hamstring), Devin Thomas (hamstring), Malcolm Kelly (hamstring), Anthony Mix (hamstring), Erasmus James (knee) and Eric Shelton (neck).

Rocky McIntosh participating in individual drills as he return from a knee ligament injury.

Stuart Schweigert was back at practice after missing practice time due to a mild calf strain. Rookie Kareem Moore was also practicing for the first time this training camp.