The Redskins finalized their 53-man roster and 8-member practice squad this week – and the club is moving forward with the first practice in preparation for next Sunday's season opener against Dallas.
The final 53 includes two of the Redskins' six picks from last April's NFL Draft: offensive tackle Trent Williams and linebacker Perry Riley.
Three undrafted rookies made the final squad: wide receiver/kick returner Brandon Banks, tight end Logan Paulsen and running back Keiland Williams.
The offense and defense were split evenly with 25 players on each side of the ball.
In the course of the next few days, the names of the final 53 could change as the Redskins work out players cut by other teams.
Here's a look at the roster, position by position, as it stands on Sunday afternoon:
-- QUARTERBACK
Eleven-year veteran Donovan McNabb is the starter and 7-year veteran Rex Grossman is the backup. No surprises there.
Despite joining the Redskins a week into training camp, John Beck earned the third quarterback job ahead of Richard Bartel.
Bartel may have outplayed Beck in preseason games, at least from a statistical standpoint, but coaches see greater potential in Beck.
-- RUNNING BACK
Clinton Portis re-emerged in training camp and he won the starting job. Don't forget that he is returning from a concussion, so his health will always bear watching.
Larry Johnson was not particularly impressive in preseason games, rushing for 46 yards on 17 carries. Still, coaches like his size at 6-1, 235 pounds and he could prove valuable as a change of pace back.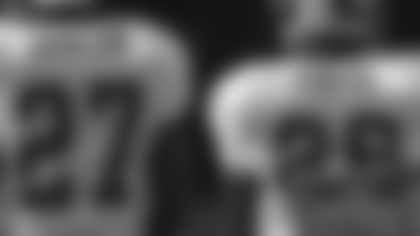 Undrafted rookie Keiland Williams beat out Ryan Torain for the No. 3 running back job. Williams was more adept catching passes out of the backfield than Torain and he showed promise on special teams. Don't be surprised if Williams sees action on game days.
Torain re-signed with the Redskins' practice squad.
-- WIDE RECEIVER
The Redskins opted to keep six, with veterans Santana Moss and Joey Galloway expected to start. Anthony Armstrong had a remarkable camp and preseason and he could see considerable playing time as the No. 3 receiver.
Devin Thomas solidified a roster spot with a strong performance in the Redskins' preseason finale against the Arizona Cardinals. He could also serve as the team's primary kick returner.
Roydell Williams, who caught six passes for 64 yards in preseason, seemed to have a good rapport with Donovan McNabb in camp.
Undrafted rookie Brandon Banks was one of the storylines of preseason. Despite a 5-7, 150-pound frame, Banks earned a roster spot as a sixth wide receiver and a dynamic punt returner. He averaged 15.4 yards on seven punt returns
Banks basically beat out seventh-round draft pick Terrence Austin at wide receiver. Austin re-signed with the Redskins' practice squad.
-- TIGHT END
Two-time Pro Bowler Chris Cooley returns to action after missing half of last season with an ankle injury. Fred Davis continues to emerge as a big target in the passing game.
Cooley is expected to start, but Davis should see considerable playing time as well. They both developed a strong rapport with McNabb during camp.
The Redskins opted to keep a third tight end in undrafted rookie Logan Paulsen. He beat out Lee Vickers for the job.
-- OFFENSIVE LINE
The big surprise was at offensive tackle, where the Redskins kept just three: starters Trent Williams and Jammal Brown and backup Stephon Heyer. It has led to speculation that the team may seek to sign another tackle in the coming days.
Artis Hicks could slide over to tackle if necessary, but he is the starter at right guard. Derrick Dockery returns to man the left guard spot. Casey Rabach is once again the starting center.
Backups Kory Lichtensteiger and Will Montgomery can play both guard and center and their experience and versatility won out over Chad Rinehart, who was released.
Three linemen released on Saturday – offensive tackles Will Robinson and Selvish Capers and center/guard Erik Cook – have re-signed with the practice squad.
-- DEFENSIVE LINE
The Redskins kept eight defensive linemen, an unusually high number for a 3-4 base defense. For now, the starters are listed as Kedric Golston and Adam Carriker at end and Ma'ake Kemoeatu at nose tackle.
Albert Haynesworth could be inserted at defensive or nose tackle at some point – if the drama surrounding him subsides, that is.
The Redskins have a pair of reliable veteran defensive ends in Phillip Daniels and Vonnie Holliday. They should see playing time as part of a rotation at the position. Second-year player Jeremy Jarmon, who is returning from a knee ligament injury, is in the mix as well.
Anthony Bryant beat out Howard Green for the Redskins' backup nose tackle job.
-- LINEBACKERS
The Redskins kept eight linebackers for their 3-4. As expected at the start of training camp, the starters on the inside are London Fletcher and Rocky McIntosh and the starters on the outside are Brian Orakpo and Andre Carter.
Given Orakpo's skill set, he seems best fitted to excel in the Redskins' 3-4. Fletcher and McIntosh are playing in a 3-4 for the first time. Carter is re-adjusting to playing linebacker after serving as defensive end the last four seasons.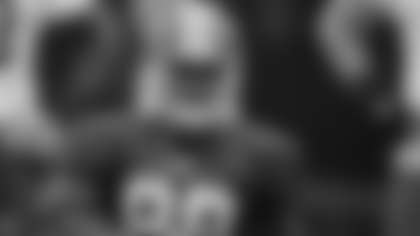 The backups on the inside are fourth-year veteran H.B. Blades and rookie Perry Riley. Blades has modeled his game after Fletcher and has emerged as a special teams leader. Riley recorded 12 tackles in three preseason games before suffering a foot injury.
Lorenzo Alexander could not beat out Carter for a starting job at outside linebacker, but he is expected to play a key role in several defensive packages. Chris Wilson backs up Orakpo for the second year in a row – he had a strong preseason posting 12 tackles and one sack.
Outside linebacker Rob Jackson, a 2008 seventh-round draft pick by the Redskins, rejoined the team as a member of the practice squad.
The Redskins also signed undrafted rookie linebacker Mike Balogun to the practice squad.
-- CORNERBACKS
The Redskins elected to keep five at this position. DeAngelo Hall is the No. 1 cornerback – he led the defense with two preseason interceptions – and Carlos Rogers has re-emerged as a front-line starter under the new coaching staff.
Free agent pickup Phillip Buchanon, who is also the team's top punt returner, is expected to serve as the nickel cornerback.
Second-year player Kevin Barnes, a 2009 third-round draft pick, could see an increase in playing time. Byron Westbrook earns a roster spot as a fifth cornerback – and special teams standout – for the second year in a row.
-- SAFETIES
Even though Kareem Moore has been sidelined the last two weeks with a knee injury, the Redskins opted to keep just four safeties. Perhaps a sign that Moore is close to returning?
LaRon Landry is poised for a breakout season after transitioning back to strong safety last offseason. He was impressive in preseason, logging 11 tackles in limited work.
Reed Doughty and Chris Horton can play both free and strong safety. It appears Doughty would start at free safety should Moore not be ready to return for Week 1.
Anderson Russell, a free safety released by the Redskins in final cuts, was re-signed to the practice squad.
-- SPECIALISTS
Kicker Graham Gano and punter Josh Bidwell were unchallenged in training camp. Both were solid in preseason, with Gano making 5-of-6 field goals and Bidwell averaging 43.2 yards per punt.
At long snapper, first-year player Nick Sundberg beat out veteran James Dearth for the job in preseason. Sundberg looked shaky early on in training camp, but he righted himself in the nick of time. Given his minimal NFL experience, he will be monitored as the season progresses.