Rock Cartwright carries an aura of confidence about him, even though he gets limited playing time week after week.
On Sunday in Dallas, Cartwright proved that confidence is well founded.
Clinton Portis was already out with a concussion. Then Ladell Betts suffered a knee ligament tear in the first quarter and had to be carted into the locker room.
It was Cartwright's turn at running back.
Normally the Redskins' kickoff return specialist, Cartwright provided a surprising spark for the offense.
He led the ground game with 13 carries for 67 yards and he made an impact in the passing game, catching a team-high seven passes for 73 yards.
"Rock Cartwright did a wonderful job fighting for yardage out there," head coach Jim Zorn said. "He had a couple big catches in there, too. He was a real warrior out there."t
After the game, Cartwright kept his focus on the team instead of individual stats.
"It wasn't enough, I have to find a way to do more," he said.
Cartwright admitted later that it was "great to compete" at running back. He has had limited opportunities to run the ball on offense in recent years.
"This is an opportunity you dream about, playing the Dallas Cowboys in their new stadium and a hostile environment," Cartwright said. "Unfortunately we didn't get the win."
It was Cartwright's biggest offensive day since Dec. 4, 2005, when he had nine carries for 118 yards against the St. Louis Rams.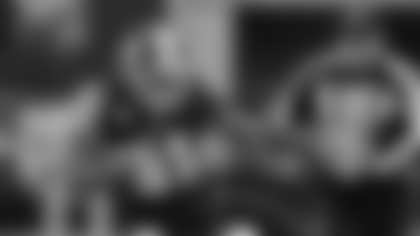 Cartwright's seven catches is the most he has had since Dec. 27, 2003, when he caught five passes in a game against Philadelphia.
Cartwright's biggest play came midway through the second quarter when he raced through a gaping hole to the right and into open field. He was tackled after a 34-yard gain.
In the second half, Cartwright caught a short pass and raced downfield for a 29-yard pickup.
Betts, making his second start of the season, finished the game with four carries for five yards. On his last carry, Betts was tackled and a Cowboys defender appeared to fall on his leg.
Betts was able to get up and limp to the sidelines, but he was eventually carted off the field.
With Betts likely sidelined for the season, Cartwright should see an increase in playing time.
Quinton Ganther, who had three carries for six yards against Dallas, could also get more playing time.
The Redskins could make a roster addition at running back this week to solidify their depth at the position. Marcus Mason has already been discussed as a possibility.
"I'm sure they will [sign a running back]," Cartwright said. "I can't focus on any of that, though. I just focus on the opportunities I'm given and I want to make the most of those opportunities."