---
The Washington Redskins Charitable Foundation's Coaches in the Classroom program, with support from Athlife Mentoring, implements effective programming that promotes the ideals of Positive Youth Development through Sport, and the critical creation of a quality mentor position called an Academic Advisor for Athletics. These advisors are placed at area high schools throughout the region with the goal of helping student-athletes create an academic game and plan and prepare them to go onto college.
The following schools are currently participating in the Coaches in the Classroom program:
Central High School (Prince George's County Public Schools)
Wilson Senior High School (District of Columbia Public Schools)
West Potomac High School (Fairfax County Public Schools)
E.C. Glass High School (Lynchburg Public Schools)
Heritage High School (Lynchburg Public Schools)
For more information about the Coaches in the Classroom program powered by Athlife Mentoring, please visit www.athlife.org.
Each year, the Washington Redskins Charitable Foundation also offers one high-potential, low-income student-athlete a $25,000 college scholarship. The scholarship, administered by the DC College Success Foundation (www.dccollegesuccessfoundation.org), will provide one deserving student in either the District of Columbia or Prince George's County, MD with a college scholarship that will be disbursed in $5,000 increments annually. The DC College Success Foundation has established a strong working scholarship model that places scholarship recipients in a mentoring program that requires the student to work with a mentor during their freshman year to help ensure success.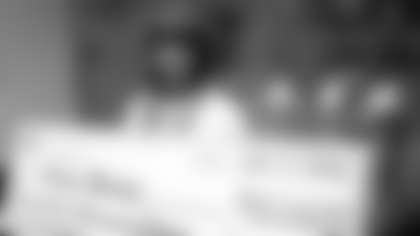 The Redskins Charitable Foundation has awarded a $25,000 college scholarship to Kiana Hardy, a recent graduate of Oxon Hill High School in Maryland. Full Story