The Redskins had outplayed the undefeated New Orleans Saints in the first half of Sunday's game at FedExField.
A pair of fluke plays allowed the Saints to tie the game heading into halftime, though.
The Redskins were able to overcome the mistakes and build a 10-point lead in the fourth quarter, but the Saints rallied for a 33-30 win.
Late in the first half, the Redskins' defense had forced a 3-and-out against the high-powered Saints offense.
Thomas Morestead lofted a short punt--31 yards in all--that fluttered toward the right sideline. The ball bounded off the foot of Kevin Barnes as he tried to block a Saints tackler.
Saints safety Usama Young alertly pounced on the fumble for a recovery.
The Saints had the ball again at the Redskins' 41-yard line.
Quartreback Drew Brees completed a quick pass to wide receiver David Thomas for a first down, but two plays later LaRon Landry blitzed into the backfield to sack Brees for an 11-yard loss.
On 3rd-and-26 at the Redskins' 44-yard line, Brees dropped back to pass. He was pressured by Andre Carter around the edge and then floated a pass across the middle to tight end Jeremy Shockey.
Landry and Kareem Moore had tight coverage and Moore dove over the top of Shockey for an interception. He quickly got up and started racing up-field on a return.
Moore was stopped at the Saints' 44-yard line where wide receiver Robert Meachem appeared ready to wrap him up. Meachem poked the ball loose, though, and he grabbed the ball mid-air.
Nothing but open field ahead for Meachem.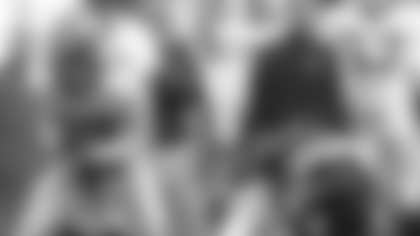 He raced 44 yards into the end zone for a stunning touchdown.
The game was delayed for several minutes as the play was reviewed by replay officials. In contention was whether Moore had pulled in the interception as well as whether he had been down by contact at the point of the interception.
In the end, replay officials ruled that the play stood as called.
The Saints took advantage of the Redskins' mistakes and tied the game at 17-17 heading into halftime.
The play ruined Moore's first NFL interception.
"Just when I was running, I was trying to make a play, trying to get a score," Moore said. "[Meachem] had me by the arm and I tried to spin out of it. Then he used my momentum and just took the ball from me."
Asked if he would stay down the next time he makes an interception, Moore replied: "I would try to score. That is every defensive back's dream. Get a pick six. I wouldn't change anything about it, I would just hold the ball high and tight."