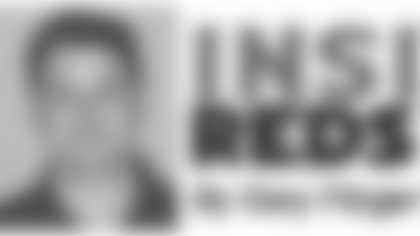 It's a familiar position for the Redskins. Heading into the December stretch run, they find themselves on the fringes of the NFC playoff race.
Just like 2005, when they were 5-6 and won five in a row to claim a Wild Card playoff berth.
Just like 2007, when they were 5-7 and won four in a row to earn another Wild Card playoff berth.
This year, the Redskins appear to be in a much better position given their 7-5 record.
And yet, if the playoffs started this week, the Redskins would be on the outside looking in.
The 11-1 New York Giants have a seemingly insurmountable three-game lead in the NFC East. The 9-3 Carolina Panthers and 8-4 Atlanta Falcons are in the lead for the two Wild Card spots through 12 games.
There's still a lot of games left and things can change in a hurry, though.
And Redskins players recognize they may have to win at least three of their final four games just to give themselves a chance.
They have little margin for error, given the competitiveness of the NFC this year.
"We have been in this position before and we have four games left," Antwaan Randle El said. "We probably are going to need 10 or 11 wins to get in, depending on how everything shakes out with the three NFC South teams trying to get in, too.
"So we have our work cut out for us. We have to get ready."
Three of the Redskins' last four games are on the road.
The Redskins play the Baltimore Ravens this Sunday at M&T Bank Stadium, then travel to Cincinnati to take on the Bengals on Dec. 14.
In the FedExField finale, the Redskins host the Philadelphia Eagles on Dec. 21, then close out the regular season in San Francisco on Dec. 28.
"The only thing we can worry about and focus on right now is the Ravens," London Fletcher said. "We need to win this Sunday and they're an extremely good football team. It's going to be a real challenge for us."
The Redskins are 4-1 in road games heading into this Sunday's contest at Baltimore.
Are the Redskins more relaxed--and less distracted--on road trips?
"Some guys may feel that," Randle El suggested. "For me, it is a football game no matter where you are and you have to put things aside and get going. You know going on the road it is going to be tough. It is you against the world. So maybe there is greater focus."
Jim Zorn disagreed with the notion.
"I haven't felt any difference in the players' focus between on the road versus being at home," he said. "You look at where guys are at in their pre-game preparation, you look at them before the game and at halftime--and our guys are right there. They really are."