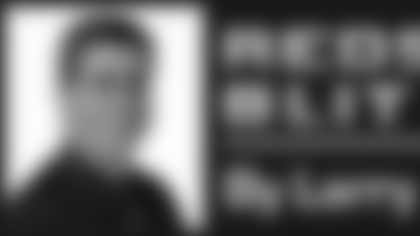 BALTIMORE – All that talk about the Washington Redskins scoring more points?
It's idle chatter. Flapping of the lips. Mere talk.
There will be more. Talk, anyway. Points? Who knows? The end zone might as well be 80 miles and not 80 yards away when the Redskins huddle up.
With their offense missing Clinton Portis and Santana Moss, with Chad Rinehart in at right guard for Randy Thomas, the Redskins gave Jason Campbell little to work with Thursday night in their preseason opener and got what might be called the expected result – little.
Campbell, essentially fighting for his professional life with this club in his fifth profelssional season, managed to complete three of six pass attempts for 38 yards in two series in what became a 23-0 loss to the Baltimore Ravens at M&T Bank Stadium. No points. No third-down conversions. A little less than five minutes of possession time.
No reason to panic. No reason to get excited. It was the first preseason game and a handful of snaps. Drawing overarching conclusions from this gets us nowhere.
All we can do is analyze the facts and assess the visuals. Campbell threw a couple of nice passes, faced a bit of pressure and had no running game to help him. Ladell Betts carried four times for seven yards and the offense simply did not put the Ravens on their heels.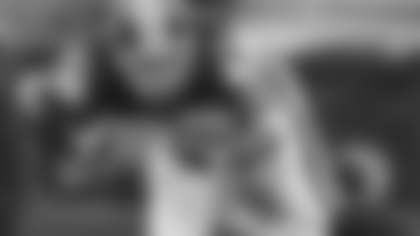 Ladell Betts. on the run against
Baltimore. (AP Photo)


"I felt like we were moving the ball with the plays that we called," said Campbell. "I felt really comfortable."
Glad he enjoyed his time on the field. Makes it sound as if he were sprawled on the sofa, watching precise, energetic football. Or was at some other game entirely.
The bigger picture for the offense? Not so comfy on any front. Tight end Fred Davis, who'd been having such a solid training camp, fumbled twice in the waning moments of the first half and lost the second at the Ravens 31 after Todd Collins, in relief of Campbell, pushed the Redskins out from their own 11 to the Ravens 35. That turnover energized the Ravens under backup quarterback Troy Smith for a two-minute drive for a 13-0 lead.
The Ravens weren't exactly a model of efficiency but they showed a little crispness despite offensive line injuries of their own. They looked very much like, well, themselves. They put together drives of 14 and 13 plays to kick field goals to lead 6-0 and the opportunistic defense's takeaway set in motion a 10-play drive concluded by Smith's 19-yard scoring pass to Justin Harper.
"That," said Ravens coach John Harbaugh, "is the way to finish a half – get the turnover and then a touchdown. How about that? The last drive is a pressure situation and we practice it all the time.
Anything to get excited about for the Redskins? Well, nobody got seriously hurt. Defensive lineman Lorenzo Alexander (abdominal strain) left early but he'll be OK. Offensive tackles Mike Williams (abdominal injury) and Scott Burley (knee strain), an undrafted rookie free agent, also had their evenings shortened. Punter Hunter Smith hung a 55-yarder in the first half and one of 52 in the second. Rookie linebacker/end Brian Orakpo flashed his speed and quickness a couple of times in pass-rush situations though he did not get a sack.
Indeed, talk about sacks and turnovers by the defense will also continue. Whether or not the Redskins actually emphasize more of those key plays is the subject of endless discussion, but they made none of them in the first half and certainly not when the ostensible starters (free-agent prize Albert Haynesworth did not suit up, nor did cornerback Carlos Rogers) lined up head to head. Still, talk is relatively inexpensive – Haynesworth, Orakpo and cornerback DeAngelo Hall were not.
Orakpo, opening at linebacker, got fried by tight end Todd Heap coming off the line on the first play. He blew containment on the second, leading to Ray Rice's run for six yards. On balance, more good than bad, but the good came against Baltimore's second team and the bad against their first unit.
Washington's first-string defense allowed yards but only the two field goals. Still, that did not satisfy Hall, who broke up a potential touchdown pass.
"We still gave up so much stuff leading up to the red zone, we still have a lot of things we can work on," he said.
Yes, allowing pass plays of 64, 35 and 34 yards can and should provide plenty to toil over.
The Redskins also talk about improving on special teams. But they got almost nothing on returns from anyone they had deep in any situation and suffered from poor field position throughout the first half. They had drives begin in their own territory at their 15, their 24, 23, 22, and 11.
They did not have the chance to see whether Pro Bowl long snapper Ethan Albright, holder Smith and kickers Shaun Suisham and Dave Rayner enjoyed any chemistry. They didn't attempt any field goals and extra points can only be tried following touchdowns, which the Redskins obstinately refused to score.
So it wasn't the stuff that dreams are made of. No points, one sack (of Ravens' third-stringer John Beck by the unknown and unheralded J.D. Skolnitsky), no takeaways by the first unit, even as limited as playing time was. No bonanzas from the special teams.
"We're still in training camp," Campbell said. "Everything we do right now is still for teaching tape and still stuff to improve off."
How fortunate for the Redskins that there will be a wealth of material to learn from.
---
Larry Weisman covered professional football for USA TODAY for 25 years and now joins the Redskins Broadcast Network and Redskins.com to bring his unique viewpoint and experience to Redskins fans. Go to Redskins.com for the Redskins Blitz column and NFL Blitz on Friday. Larry also appears on Redskins Nation, airing nightly on Comcast SportsNet, and on ESPN 980 AM radio.