With 110 characters, Redskins quarterback Robert Griffin III alerted the world that his offseason ACL surgery and months of rehab had finally paid off.
On Monday, he was cleared by Redskins team doctors to return to the practice field, exactly 197 days after suffering a torn anterior cruciate ligament (ACL) and lateral collateral ligament (LCL) against the Seattle Seahawks in the Wild Card round of the playoffs.
"Doctors cleared me to practice. Coach is going to ease me in," RG3 tweeted. "Thank you for your support & See [sic] you in Richmond."
With his clearance, Griffin III sets a new standard for fast recovery from ACL reconstructive surgery, a process that typically takes 12-18 months.
Last year, Minnesota Vikings running back Adrian Peterson returned for Week 1 from an ACL tear suffered against the Redskins in Week 15 of the 2011 season.
Robert Griffin III suffered his injury one year and two weeks after Peterson, but could be available some seven weeks earlier in the process.
This caps off an offseason of media speculation surrounding his knee, in which Griffin III made headlines saying he was "All In For Week 1," and later predicting that he would be ready by Day 1 of camp.
"One of my goals is to be on the field for training camp," he told reporters in late May. "It's just matter of how my body feels when I get back from training camp on July 25th before we go down to Richmond. We'll go from there.
"I've said it a bunch of times, but I'm pretty confident that I'll be ready."
Redskins head coach Mike Shanahan has previously said that the team is dependent on a healthy Robert Griffin III for 2013, but also for the long-term future.
"We listen to the doctors. The doctors will be able to tell you more about that than me," Shanahan told the media. "I just shared with you what they had said.
"When the doctors do clear him, then we'll practice him."
With today's clearance, Robert Griffin III fulfills his promise to be ready, and will be free to rejoin his teammates just 200 days after suffering the injury that ended his rookie season.
Extra Take: Calling His Shot
This is not the first time that Robert Griffin III correctly called his comeback.
In last year's Week 5 contest against the Atlanta Falcons, Robert Griffin III was taken out of the game with concussion-like symptoms.
He did not address the media until Wednesday, when he predicted he would be cleared to play by Sunday and would make the Week 6 start against the Minnesota Vikings.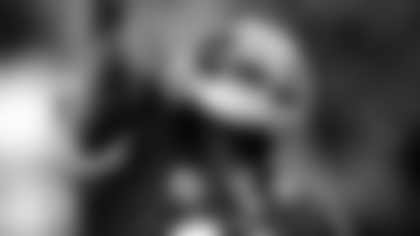 Robert did just that, passing for 182 yards and rushing for 138, including an iconic 76-yard touchdown run to seal the game.
After initially spraining his LCL against the Baltimore Ravens in Week 14, Griffin III predicted he would be available to start the following Sunday against the Cleveland Browns.
"I always expect to play," he told the media at the time. "I'm ready to play whenever they want me to play – whether it's this week, next week, a couple weeks. Whatever they say goes, so I'll be ready."
Head coach Mike Shanahan deactivated RG3 and started Cousins in that game, but suggested that the move was precautionary with an eye ahead toward critical games down the stretch and the playoffs.
Griffin III would start every game for the remainder of the season.
In the wide world of sports, the great ones are defined by their ability to make bold predictions and live up to the hype (see: Muhammed Ali, "Broadway Joe" Namath and Herman "Babe" Ruth).
For Robert Griffin III, the next chapter of his legacy gets written when he steps on the field at the Bon Secours Washington Redskins Training Center in Richmond, Va.
Stay tuned, Redskins Nation.