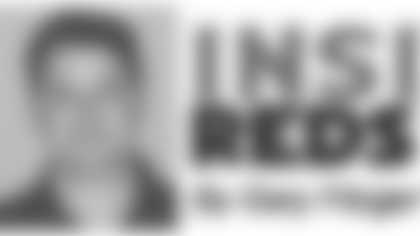 Justin Tryon talked a good game.
In his introduction to the Redskins' media corps April 27, Tryon seemed to have a certain swagger uncommon to most rookies.
Especially rookies drafted in the fourth round.
"I bring wisdom to the game," he said in a conference call. "I bring heart to the game. I was made for this. I was made to play football. I was made to be in this game."
The 5-9, 190-pound cornerback out of Arizona State later added: "I love to compete, so I am looking forward to guarding the T.O.'s and the Chad Johnson's. I'm looking forward to that."
One week later, Tryon's tune had changed.
He admitted to being "humbled" after completing his first Redskins mini-camp.
Turns out that lining up against Santana Moss and Antwaan Randle El is nothing like the competition he faced in the Pac-10.
"I just need to improve on all of my assignments," he said. "I have to know all of my assignments in and out. That's the difference from college to the pros. You just have to hold more assignments. You have to learn new things every day. That's the big change."
Tryon was surprised to learn he reminded some of Fred Smoot, the Redskins' talkative cornerback.
"Why are they comparing me to Smoot?" he asked.
"You're a good interview," a reporter replied.
Told that he displayed surprising confidence for a rookie, Tryon said: "Well, you can't lack confidence in this game. I'm a corner. You have to have some confidence about yourself."
Defensive coordinator Greg Blache jokingly referred to Tryon as Smoot's "mini-me."
"As the pads go on and the guys start pounding, he'll realize that it's one thing to talk the talk," Blache said. "You also have to walk the walk."
The Redskins had grabbed Tryon in the fourth round--the 124th overall pick--in the NFL Draft last month.
He proved to be a playmaker at Arizona State, starting 26 games the last two years and recording 103 tackles, four interceptions and 23 pass deflections. Last season, he ranked 11th in the nation with 19 passes defended.
Said Blache: "I like the confidence. I like the swagger. I just hope that when it gets to it, he'll back it up. He'll be humbled a time or two, and then he'll come back."
And what does Smoot think of his new protege?
"He's a natural corner," Smoot said. "The first thing I look at in cornerbacks is their hips and their ability to get out of cuts. He looks like he's a strong guy."
Smoot added: "Don't confuse his confidence as a bad thing. But he has to soak things up from the old guys. As long as he does that, he'll be all right."
As Tryon wrapped up mini-camp on May 4, he felt like he held his own covering Moss, Randle El, James Thrash, Anthony Mix and talented rookies Devin Thomas and Malcolm Kelly.
"No one has beaten me deep yet, so I'm looking all right," he said.
Tryon is among rookies scheduled to return to Redskins Park on May 16 to participate in the team's off-season strength and conditioning program.
He'll get to know his new teammates and continue to work with defensive coach Jerry Gray, a Pro Bowl cornerback in his day.
"He's a real good coach," Tryon said. "He is taking time with me. He's telling me how to break, how to read the quarterback, when to slow down. He's telling me everything I need to know to be successful at this level."