One week into free agency, and the Redskins still have no free agent visits scheduled.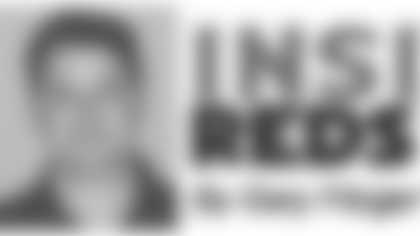 Seems surprising, given the team's aggressive approach in years past.
This year, it's a different approach for the Redskins. And it seems the NFL, media and fans are still adjusting. Team officials have had to deny rumors of free agent visits several times a week.
Vinny Cerrato, executive vice president of football operations, has said that prospective free agents have to be the "right fit" with the Redskins.
"When we evaluate a [player], we put a dollar value to what we feel their talent level is on the field," Cerrato told Larry Michael on Redskins Radio this week. "So if the dollar value is way above what we value, then it doesn't make sense to overpay for somebody.
"If there was somebody out there who we felt like would have drastically improved us, we would have tried to go after that guy. But there was nobody out there that we thought--talent-wise, locker-room wise, chemistry-wise, person-wise--fit what we wanted to do."
Head coach Jim Zorn agreed.
"We talked about a lot of free agents and looked into those situations, and what we've decided is to hold back because either the numbers were outrageous or it just didn't fit for us with what we're trying to do with this football team," he said.
Zorn pointed to the re-signing of veteran quarterback Todd Collins as a key pickup because he provides veteran experience to fourth-year
"I like the way the team is set up right now," he said. "There will be other things happening as we go along, but they have to fit right for where we're headed."
With so much free agent activity last week, it's easy to forget that there is no timetable for acquiring players.
The Redskins can sign free agents at any time. So the evaluation process continues.
And as free agency heads into its second week and beyond, the price tag for players drops.
"I think the big money is over," Cerrato said. "So now the market will come back and you can get some guys for minimum salary."
Cerrato added the team is still considering trade opportunities, while also preparing for the NFL Draft on April 26-27.