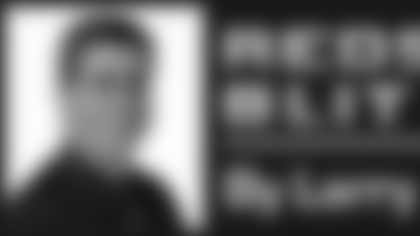 JACKSONVILLE -- This is it. This serves as the lingering impression of the Redskins until opening day.
Thank your favorite deity it is an impression and not an odor.
The Redskins allowed a number of starters to sit against a Jacksonville Jaguars team that was winless in preseason and determined to use its front-line players for at least a half. No great stretch of the imagination is further required after this 24-17 defeat in which the final score was closer than the game.
The Jags ate up half of the first quarter slicing and dicing a Redskins defensive line missing Albert Haynesworth, picking away at a linebacker corps absent London Fletcher and stinging a secondary lacking Carlos Rogers. On the kickoff following Jacksonville's 23-yard field goal, Anthony Alridge tried to return the ball from his own end zone, fumbled when hit and the Jaguars returned the turnover for a touchdown.
So the Redskins trailed 10-0 before they even ran a play.
This would have excited the crowd, had one existed. A smattering of bodies in the stands, announced as "39,942 tickets distributed," made this look more like a high school game than an NFL contest, preseason or otherwise. Jacksonville's shrinking ticket base caused the second of an anticipated 10 local television blackouts (that would be every one of its home games), a phenomenon made even weirder in the Jacksonville Municipal Stadium press box, where the TV feed of the game was by Redskins Broadcast Network, with Kenny Albert and Joe Theismann.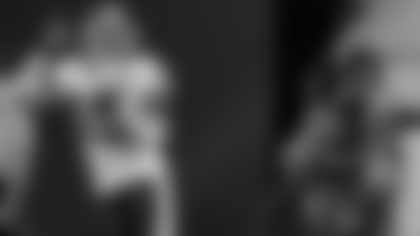 Trent Shelton pulls in a pass in front
Gerald Alexander. (AP Photo)


During the regular season, the networks would broadcast the game from Jacksonville back to the visitor's market. In the preseason, when the game production is handled independently, a blackout means no telecast.
Not that this was a star-studded show. Quite the opposite. Clinton Portis didn't dress and the Redskins ran the ball poorly. Jason Campbell played one series and threw the ball well but the Randle El drop undermined the first-string offense, which never did hit that elusive deep pass throughout the summer. Campbell finished with four completions in six attempts for 33 yards.
"He was excellent. He made big plays. He made a great throw to Antwaan Randle El that we couldn't connect on. We saw what we wanted to see tonight," head coach Jim Zorn said.
They also didn't see what they need to see. Pass rush? Nah. Not until veteran safety Reed Doughty got in the game in the second quarter and blitzed twice on the same series. He sacked David Garrard for a seven-yard loss and forced a poor throw on third down but the Jaguars kicked a 52-yard field goal for a 13-0 lead.
In a way, bad can be good. The Redskins must release 22 players by 6 p.m. on Saturday and Zorn said earlier in the week that getting to 60 from 75 would not be as tricky as lopping off the final seven.
Sometimes the players make that decision a fait accompli. Alridge didn't help himself, nor did Dominique Dorsey, who got flipped like an omelet on his first punt return. Dorsey later scored the Redskins' only touchdown, on a 3-yard run.
"If you are going to be a pro player, that's the battle you want to be a part of," Zorn said. "You are going to have to play against starters and that's a good opportunity for our guys--to place them in that position and see how they respond. We put a lot of pressure on the defense early by turning the ball over."
Offensive tackle Mike Williams, trying to come back from nearly a four-year hiatus from NFL competition, gave up a sack of Chase Daniel that turned into a lost fumble at the Redskins 15. That led to a touchdown pass, a two-point conversion and a 21-0 lead for the home side. Williams was the fourth player picked in the 2002 draft and played four mediocre seasons for the Buffalo Bills. He ballooned to nearly 450 pounds and lost more than 100 in this attempted comeback that has been marred by groin, abdominal and ankle injuries.
Seeing young players against older, established starters also provides a useful measuring stick. Rookie linebacker Brian Orakpo got eaten up by tight end Marcedes Lewis on a 24-yard pass on Jacksonville's initial snap from scrimmage. Rookie cornerback Kevin Barnes felt the torch of Torry Holt for 31 yards. Cornerback Byron Westbrook, twice a practice squad player and now out of opportunities for that not-quite-elite unit, failed to make a tackle on Mike Sims-Walker's 11-yard touchdown reception.
In the epic battle for the No. 3 quarterback job, well, who can tell? Chase Daniel looked more like Chased Daniel, with little time to throw. He scrambled well but could not get much achieved in the passing game, completing three of eight for 19 yards. Did he do enough to unseat Colt Brennan? Or will the hamstring Brennan suffered send him to injured reserve, spare Daniel and allow the Redskins the presence of four quarterback bodies?
A last-minute touchdown pass from Daniel to Marko Mitchell made the score closer than it probably deserved to be and also may have secured Mitchell the fifth receiver spot on the roster. He caught six passes for 52 yards in this game and three touchdown passes in preseason play.
The Jacksonville victory kept a couple of Jaguars' streaks alive. They've never lost to the Redskins the preseason (4-0) and they've never had a winless preseason.
The Redskins? The 1-3 record isn't pretty. Maybe they got some answers about the players who must go and maybe they got some about the ones who will remain. It was knowledge earned the hard way in a bad beating in a game meaningless in the standings but meaningful for those who hope to stick around.
---
*Larry Weisman covered professional football for USA TODAY for 25 years and now joins the Redskins Broadcast Network and Redskins.com to bring his unique viewpoint and experience to Redskins fans. Go to Redskins.com for the Redskins Blitz column and NFL Blitz on Friday. Larry also appears on Redskins Nation, airing nightly on Comcast SportsNet, and on ESPN 980 AM radio, both in the Washington, D.C. area. *