Redskins owner Daniel M. Snyder sat down Tuesday for a wide-ranging discussion with Redskins.com at his office at Redskins Park. Taking part in the interview were Gary Fitzgerald and Larry Weisman of Redskins.com and official team blogger Matt Terl.
GF: Along with the addition of the HD Video Boards and other improvements, what is the long-term vision for the fan experience at FedExField?
DS: "Number one, [Monday] was the first time that I had seen the HD boards in use at FedExField and they're amazing. They're unbelievable. To see the quality and to see tears of sweat…the clarity is unbelievable. The size is overwhelming.
"When you think about what we will be able to do for the fans -- having multiple replays simultaneously and fast, different angles -- you're going to get something that you can't get anywhere else. You can't get it on television. The experience is really going to be enhanced dramatically from all of the seats in the stadium.
"We are focused even more so this year in understanding and embracing the tailgating component. As a lifelong Redskins fan, someone who tailgated for decades, I can tell you that it's always been really important. Recently we bought some more land and increased our tailgating capacity and our size capacity, and we can really now go further and further. So we're looking forward to doing that as well."
LW: Similar question, not about the stadium but about Redskins Park. Is there anything in the works or any plans for an indoor practice facility, practice bubble or upgrades to this building?
DS: "I think we continually upgrade Redskins Park and we continually look at the quality of the field. But we are also looking more and more at building an indoor practice facility. One of the things that I really dream about having here as well is a museum. I would love to have a Redskins museum."
LW: Is there a timetable for any of that?
DS:"Hopefully in the near future. The Redskins museum to me would be really important. I've been collecting now, since I've bought the team, a tremendous archive. It's in storage. We have some great stuff that would really be fantastic. The history here, the tradition here, the fan base – it would be really exciting to give the fans an opportunity to see all of that."
LW: Would the museum be on the grounds here at Redskins Park?
DS: "Yes, on the grounds here at Redskins Park or in our indoor facility."
MT: Given everything that's happened with Albert Haynesworth since he signed with the Redskins, what are your thoughts on the way his situation is playing out at this point?
DS: "Well, I'm hoping that he passes the conditioning test set out, and I'm looking forward to seeing him out there with the rest of the guys, and moving forward. I think that Coach [Mike] Shanahan has a handle on everything here, and things will work out great."
LW: I interviewed Mike Shanahan a little while back, and one of the things that he said was that fans shouldn't have to temper their expectations this season. He wants high expectations -- you don't win without high expectations. Do you agree with that assessment and what are your expectations for 2010?
DS: "Well, my expectations after what the fans and everyone went through the last two seasons, particularly last year, are to go in the right direction. I think we're doing that now. I feel very, very comfortable with Mike and Bruce [Allen] and where we're going now. It starts there. And then I really do believe that Mike sees this team as a good team that is not looking backwards but is looking forwards. And his optimism is contagious."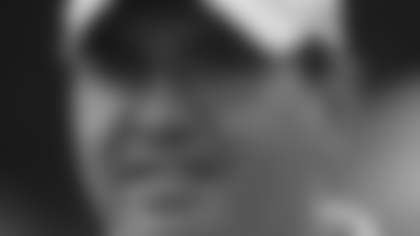 GF: With Donovan McNabb joining the team this year, looking back on your tenure as owner of the Redskins, is this the most confident you've been in a Redskins quarterback?
DS: "Sure. As owner, yes. As a fan, I was clearly confident in Sonny Jurgensen and the rest of the greats, and I think we've now got a great quarterback. We have a franchise quarterback. They're awfully hard to come by."
GF: Do you see McNabb having a long future here in Washington?
GF: This weekend, Russ Grimm is going into the Pro Football Hall of Fame, and I'm sure you'll be going...
DS: "We're excited about it. I'm thrilled for Russ and his family and the Redskins family, and I hope and expect we'll have a great Redskins showing out there. I know there'll be some Dallas Cowboys fans and some 49ers fans, and what-have-you. But I think Russ's induction has been a long time coming. I think he's a heck of a guy. He's someone that represented the Redskins well, and I'm just looking forward to seeing the induction and being at his party afterward to toast him."
GF: He was an assistant coach here for two years while you were owner. Do you have any particular memory of working with him?
DS: "We had a few meals together. I enjoyed him, got to know him a little bit. I think he's a very good coach, and I think he's a terrific guy."
GF: Along those lines, you're on the Board of Directors for the Pro Football Hall of Fame. Do you believe that the league needs to change how players are voted into the Hall of Fame?
DS: "Well, the Pro Football Hall of Fame is really a first-class organization that has strived to always do the right thing. And I think that they've done it. I think from time to time, things always get changed to a small degree here and there, and I'm sure they're working on different things. I have all the confidence in the system."
LW: We have NFL Commissioner Roger Goodell coming to training camp and one of the things he's talked about is, as the labor situation unfolds, the enhanced season with 18 regular season games. Are you in favor? Think it's a good idea?
DS: "I think we're always looking to improve the game and the fan experience, and we're looking at that as a league. From my personal perspective, I feel anything we can do to improve the experience for the fan is terrific. I think anything we can do to continue the competitiveness is most important."
LW: As a follow-up to that, do you think that an expanded season would lead to expanded playoffs?
DS: "I don't know. We've missed the playoffs a few times here and there, usually by a game or so. But I really don't know about that yet."
MT: You've been an owner for a while, you're obviously still a fan but you're more than a fan. You own the team. Is there any aspect of life just being a fan that you miss?
DS: "Sure. I miss tailgating. I loved it. I did it for a long time. I went to my first Redskins game with my father when I was 6 years old. I'm 45 now. I think that as an owner I'm just trying to help as much as I can to support Bruce and Mike. I miss the experience of wearing my jersey and hanging out with my pals."
MT: What was a Daniel Snyder tailgate like?
DS: "It was a little low key. We weren't the rowdy tailgaters. We were low key and we had a blast. A lot of cooking, a lot of eating. A lot of good bratwurst."
MT: Internet and media have always been very important to you. What is your vision for Redskins.com and the Redskins Broadcast Network?
DS: "My vision is to fill the future needs of digital communications. It goes back to being a fan. As a fan, I want news now. I don't want to read about it tomorrow. What we do with Redskins.com and through our Powerboard, what you can do with blogging and the Internet, is deliver real information now. I'm talking about delivering actual news in real-time, breaking news fashion.
"Everyone knows Brett Favre supposedly has retired and that's breaking news, and you don't have to wait until tomorrow to read about it. And that's the advantage of the Internet, the advantage of cell-phone communications. It's not going to back off, it's going to continue. The iPad someday may be the only piece you carry to college with you. It's an all-in-one information source."
LW: You've been not only present but more visible at Charitable Foundation functions and in community outreach. What's behind that?
DS: "In today's economy, where we are today with economy and the recession, we're trying to reach out and do whatever we can do. Our cause is children. They lead our future. From that standpoint, I want to continue to do more."