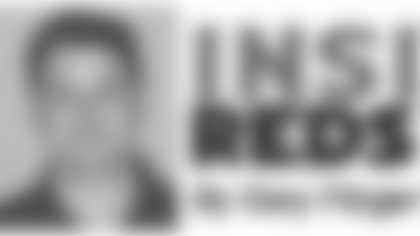 Two weeks of OTAs, and Malcolm Kelly did not have a setback with his left knee.
It's progress for the second-year wide receiver.
After a lost 2008 season, Kelly is ready to be a regular presence at training camp this year.
"My knee feels good," Kelly said after OTAs wrapped up on June 11. "It has not swelled up on me at all. It's not even aching."
Kelly was full-go during practices and his confidence improved as he leaped up for balls and landed without any pain his knee.
"I knew once I left my feet for the first time, jumping up to get some balls, that I was back to where I needed to be," Kelly said. "It's reacting well. I just need to take care of it this summer and then go hard when training camp starts."
It has been a long time coming for Kelly.
Since undergoing arthroscopic knee surgery for the first time last August, Kelly has experienced bouts of swelling in his knee.
He was limited to just five games last year and three catches for 18 yards as he struggled through the knee injury.
Kelly had arthroscopic knee surgery again last January. He hopes the procedure, as well as continued maintenance of the knee, keeps the injury from flaring up again.
Kelly's last test of his knee will come in 2-a-day practices during training camp. Putting extended stress on the knee--and determining how it reacts--is the closest Kelly will come to game action until preseason.
"Early in training camp could be the most difficult [for Kelly]," Jim Zorn said. "If it gets to the point where he gets sore, I will give him a break…He should make it through, but I am looking at that real close."
For now, Kelly can put all of his energy into competing for playing time in the Redskins' offense.
"It's an exciting time," he said. "Last year was real exciting and real competitive, a whole lot different from college, but I didn't get to really experience it because of the injury. You get out there and those competitive juices start flowing and then you start doing things you didn't think you could do."