Dallas, hated division rival and self-proclaimed America's Team is coming to FedExField this week for the Redskins' first divisional matchup. Dallas is sitting at 3-3, experiencing spasmodic success by going 3-0 at home and 0-3 on the road. Their run game and defensive line have been the strength of the team, so let's take a look at how they might come into play this Sunday.
Out of the frying pan and into the fire. Holding a team that's averaged 154 yards on the ground to only 81 is impressive -- even more so when you factor in that the team's star running back averaged a mere 2.5 yards per carry. Washington did just that against Carolina on Sunday, but they'll need to put together a similar performance against Dallas and running back Ezekiel Elliot.
Washington's front seven did an impressive job against Carolina in their 23-17 win Sunday. They read their keys well, were patient and didn't allow the Panthers to break any big runs.
In particular, having defensive linemen Daron Payne, Jonathan Allen and Matt Ioannidis play well, and often, limited Carolina's ability to get any big runs. All three down lineman played over 50 percent of defensive snaps for the first time this season, doing their job to plug gaps.
After giving up 21 rushing yards on the first three plays, Washington's defense held Carolina to just 60 rush yards the rest of the game. Linebacker Mason Foster said it all starts with the defensive line.
"Guys are playing hard, but really it's about those guys up front. Between having Jon Allen back, Ioannidis fully healthy, Ryan, all those guys are physical upfront, closing gaps, being physical," Foster said. "Guys are going to bust runs or make plays but it's about limiting those plays and making them earn it...but at the end of the day, if you be physical up front, those guys and just let them hunt and me and [Zach Brown] will play off of them and that's the way we go about it."
They'll need a similar performance this week, as Dallas is coming to FedExField averaging 147.5 rushing yards per game, second-most in the league. They ran for a season-high 206 yards at a 4.9 per rush average against Jacksonville while putting up 40 points last week in what was by far their most impressive win this season. They're coming in hot.
But there's a reason Dallas was averaging only 16.6 points per game heading into last week: its offense has some serious flaws.
Their most glaring issue is a complete lack of a non-play action passing game. Quarterback Dak Prescott has been inaccurate this season, completing only 62 percent of his passes. He's missed opportunities in each of his games, which has led to him holding the ball for an average of 3.03 seconds from snap to throw, according to Next Gen Stats, third longest among starting quarterbacks.
That's a long time, given the established average is around 2.5 seconds. It's made it difficult on the Cowboys offensive line, as Prescott's been pressured on 37.6 percent of his drop backs, one of the higher rates in the league.
So how do you get production out of a passing game so limited? You tie it into what you do well: running the ball.
The Cowboys may not be able to run a five-step-drop passing game and rely on long developing timing routes, but they can run play action effectively and get big chunk plays because of it.
According to Football Outsiders, Dallas is averaging 8.8 yards per play on play action, but only 5.1 yards on non-play action plays. That differential ranks 30th in the league, making the Cowboys more reliant on run fakes than nearly every other NFL team.
Teams honor Dallas' run game first and foremost, as it's their biggest strength on offense. Because of this, play action fakes often cause the linebackers to immediately chase the guards downhill. It's allowed Dallas to get their tight ends heavily involved in the passing game, as opposing linebackers are easily manipulated into opening up the middle of the field.
Similarly, play action has an adverse effect on defensive linemen, causing them to play the running back and not the quarterback. Traditionally teams have used this to roll the quarterback outside of the pocket, where they have the option of crossing routes at different levels to hit. The Cowboys definitely do this, rolling Prescott out and allowing him to be a threat to run as well.
But one of their most effective uses of play action has come on screen plays. In the play below, the Cowboys use the aggressive play of the Panthers' front seven to get first down yardage on a tight end screen.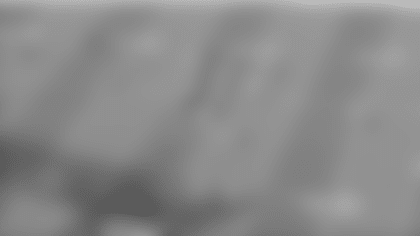 Dallas comes out in a heavy formation with two tight ends to the left. Carolina responds by loading the box with eight defenders. The Cowboys have used a two tight end singleback formation 50 times this season, and have run 66 percent of the time, averaging 5.6 yards per carry. It makes sense for the Panthers to play run-first in this situation.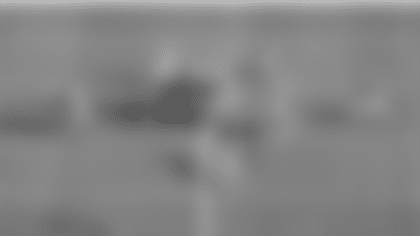 The play unfolds with a fake to Elliot, the left guard Connor Williams (gold circle) pulls to the right to kick out linebacker Shaq Thompson. Tight end Geoff Swaim (red circle) blocks the defensive end Mario Addison up-field and then turns around for the screen pass.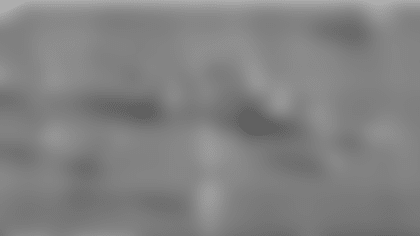 Prescott turns back around and dumps if off to Swaim, No. 87, who gets outside and follows his blockers for an easy first down. The Cowboys have run variations of this play, always leaving one offensive lineman in to block the backside. They ran it against the Texans for a 43-yard gain to the right, where they left their left tackle Tyron Williams in to block and sent everyone else playside. This play targets teams that are playing the run too aggressively, something Washington will have to look out for as they got hurt on play action screens in their Week 5 loss to the Saints.
Defensive tackle Tim Settle said the Redskins defensive line focuses on switching from run to pass in practice, putting an emphasis on situational football as a hint as to when a screen might be coming.
"I feel like we're really up there as far as when to transition from the two. It's just, you've got to play. Us being here, you know Payne and Jon and Matt, everybody that's on the D-line, we know that you've got to play," Settle said. "And you feel, whatever you feel you gotta go, it's all off transition and that's what we practice."
Dallas has been stunting on offensive lines all season. Really, they've run defensive line stunts successfully. According to Football Outsiders, the Cowboys have pressured teams on 37.6 percent of drop backs, the second highest rate in the NFL. It's allowed them to limit opposing offenses to 17.2 points per game, second-fewest in the league.
They don't give up many passing yards per game (224.0) and they sack the quarterback often (fifth-highest sack rate in the league, 9.2 percent according to Football Outsiders), because of the guys up front.
The strength of the team has been their defensive line, led by 2014 second round pick Demarcus Lawrence. Pro Football Focus has Lawrence ranked as the ninth-most productive pass rusher in the league (min. 150 rushes).
Lawrence is effective for a lot of reasons, but his biggest asset is his athleticism. For being 6-foot-3 and 265 pounds, he moves incredibly well. It's especially noticeable on his lateral movements, which make him nearly impossible for quarterbacks to avoid once he's in the pocket. He's got good enough hands to beat 1-on-1's with offensive tackles, but his best use is when he twists inside on stunts during passing downs.
Lawrence dominated the 20-yard shuttle and the vertical jump at the NFL combine, posting a top-five score in the shuttle drill and a top-10 vertical jump for his position group. It was a taste of the athleticism he would later demonstrate as a premier defensive end in the NFL.
And it's one of the main reasons the Cowboys have gotten so much production out of stunt rushes. Lawrence's ability to fake an outside rush move, get the tackle to commit and then quickly get back inside around his own defensive tackle has made it tough on quarterbacks to have success against Dallas.l
Here's an example of how Dallas gets pressures, and sacks, with their defensive line stunts.
The Giants come out in a three wide receiver set on first down. Initially, Dallas has linebacker Jaylon Smith show pressure in the A-gap, but he drops back into coverage and slot corner Anthony Brown (red circle) comes down and shows blitz. On the other side, Dallas has linebacker Leighton Vander Esch (gold circle) show pressure and then drop back, forcing the Giants to account for six potential rushers.
After the snap, running back Saquon Barkley moves across the formation to block Brown (not on screen) coming on a blitz. Cowboys defensive tackle Tyrone Crawford pushes hard and widens the right guard, allowing Lawrence (No. 90) to cut back around him.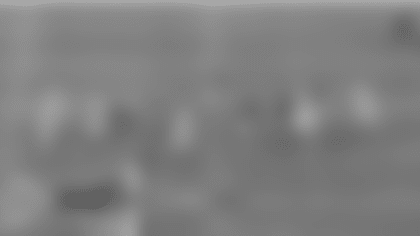 With Barkley helping the offensive right side, and the center helping the left, Lawrence has a huge gap to rush through the middle. Eli Manning doesn't have a chance to get rid of the ball and Lawrence gets the sack. Crawford does a great job of opening up that hole by occupying the right guard, not allowing him to pick up the stunting Lawrence. It's a good mix of teamwork and individual ability, and it's one of the reasons Dallas has been so effective at getting pressure this season.
The stunting Dallas defensive line isn't anything new for Washington. The Cowboys had four sacks in each of their two games last year, something head coach Jay Gruden mentioned at his Monday press conference.
"Defensively, the movement, we haven't handled the movement, very similar to Indianapolis," Gruden said. "We didn't handle the stunts, the line stunts, and the pirate so to speak, the defensive end spike and the three technique spike and those wrapping around or what have you, a lot of moving parts that we haven't handled very well."
He brought up the Colts game, in which Indianapolis sacked Alex Smith three times. Jabaal Sheard got a sack on a stunt very similar to Dallas' mentioned above, and Washington wasn't ready to handle it. Based on Gruden's comments, Washington will be prioritizing blocking up the stunts well this week, so it should be the premier matchup to watch on that side of the ball.