Retirement was just around the corner for Petra Pope. Her and her husband had just bought a home in the Poconos. She was looking forward to tending to a garden and maybe learning Italian. All of that was temporarily tabled, however, once she learned about plans for a new kind of entertainment at the Washington Commanders.
"The opportunity to do something completely different was very exciting to me…[senior leadership] was open to creating a team vastly different than what's been done before – to create an entertainment team that kind of encompassed all styles within one routine is very unique to the NFL," Pope said.
Though she has been involved in sports and dance world since 1982, she had never been involved in a project quite like the one being described to her that day in the spring of 2020. Two and a half years on from that first phone call, Pope has played an instrumental role in helping Washington's entertainment team develop into a one-of-a-kind group.
Once Petra was in, she was all in. First on her list of to-dos was understanding the history, culture and trends of the place from which this new entertainment team's style would be heavily influenced.
"The moment I was offered the position. I immediately went into researching what is cool and unique about D.C.," she explained.
It wasn't long before she discovered Beat Ya Feet, a go-go music-inspired dance characterized by rapid footwork born in Southeast D.C., in the late 1990s.
"I thought, 'Wow, how cool would it be to have this form of dance included in the vision of this entertainment team?' So, then things start to become even more exciting," Pope said.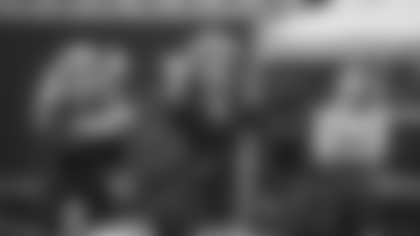 Beat Ya Feet was soon pulled into the mix with several other ingredients, styles of dance that that are infrequently, if ever, combined in one routine.
"The biggest challenge is piecing all the elements together," Pope said. "Producing that choreography and educating the different choreographers who come in who are not accustomed to creating a piece that incorporates all these skillsets."
Ballet. Jazz. Stunting. Hip-Hop. On the Command Force, they all mingle and meld to produce one work of art. Though challenging, weaving these different pieces is one of the most rewarding parts of being on the team.
"During our first team meeting, I give the same speech that I've been giving for the last 38 years and that is you will leave here a better dancer. You will leave here a better gymnast. You will leave here better at Beat Ya Feet, because we challenge everyone to do something that's out of their comfort zone," Pope said.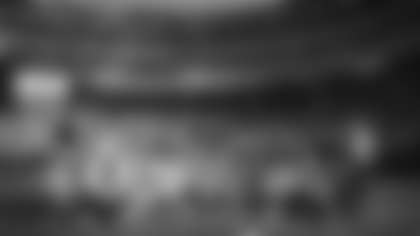 Outside of that comfort zone has come some of the most extraordinary moments – the kind that Pope had glimpses of just in her mind's eyes when she first took the job. One of the first and perhaps one of the most profound happened last year during the team's inaugural performance in Richmond at training camp.
"When they performed as a team, I literally got teary eyed and I said at that moment, 'Damn this is going to be some good stuff," Petra said. "I just got goosebumps. I was so proud of what we put together. I was so proud of how the performers embraced the new philosophy."
This new philosophy has also carried into the team's fashion, an area Petra is particularly passionate about. When it comes to formulating this team's look, she takes an approach similar to the one she's taken on the dance side of her work by observing and experimenting.
"I love looking at what is trendy and seeing how we can translate that into a costume or uniform," she said.
Whether it be the dress or the dance routines, the Command Force has shown it isn't afraid to to experiment with ideas and take chances. That mentality, Petra believes, has the potential to not only bring this team to new heights but also others around the league. Change can breed change.
"Jade [Kenny] and I were at a conference this year, and people were asking us how we managed to get all those skillsets in one routine, what choreographers we used, who designed our costumes," Pope said. "It really became we were kind of the cool kids in town that are doing these kind of fashion-forward things and with choreography that is really explosive and exciting. They wanted to be a part of that conversation with us. It was just really cool."