Clinton Portis is listed as questionable for Sunday's game against the Tampa Bay Buccaneers as he continues to recuperate from a calf injury.
"Clinton will be a game time decision," Jim Zorn said.
Portis, who suffered the injury in last Sunday's game against the Detroit Lions, watched practice from the sidelines all three days this week.
"He has paid attention and he is trying to get it right," Zorn said. "He is as frustrated as anyone. I'm putting words in his mouth, but I don't mean to. I'm just telling you that he has had a good attitude out here and he has really tried to work to get up to speed."
In the locker room after practice, Portis was cornered by media but he declined to talk about his status.
Asked how he was feeling, Portis replied simply: "I feel like a game time decision."
Zorn and the Redskins' coaching staff are monitoring Portis's injury--"It is getting better," Zorn said--and are weighing whether it would be wise to rest him for a game.
The Redskins' bye is not until the last week of October.
"My struggle is, if I put him out there, are we just going to do it over and over again or do I need to get him well?" Zorn said. "That's my dilemma. I'm leaning to play him because he's a force and he loves to play and he gets himself ready to play.
"I want to play him...But I also want to be smart in how we deal with him."
Portis got off to a fast start this season, breaking loose on a 34-yard run on his first carry in Week 1. Since then, he is averaging just 3.2 yards per carry.
As a team, the Redskins are ranked 24th in the NFL in rushing yards through three games. Portis has 183 rushing yards on 43 carries. (He also has four catches for 25 yards.)
Zorn indicated this week that he wants the Redskins' offense to focus more on running the ball. When Portis rushes for 100 yards in a game, the Redskins are 21-4.
If Portis is unable to play on Sunday, then Ladell Betts would likely draw the start.
Marcus Mason could also see action, Zorn said.
"Ladell has done everything in practice this week, and we have the other [backs]," Zorn said. "We played Rock [Cartwright] last week when Ladell got tired. All of those guys--Stump [Mitchell] is doing a wonderful job and Sherman [Smith] has those guys ready."
Meantime, fullback Mike Sellers took part in practice on Friday.
Sellers suffered a thigh injury in the Lions game and missed practice time this week.
Sellers is listed as probable for the game.
---
-- 'D' LOOKS TO CONTAIN JOHNSON
Jim Zorn knows a little bit about Tampa Bay quarterback Josh Johnson, who makes his first NFL start on Sunday against the Redskins.
Zorn was among team officials that evaluated Johnson as a draft prospect in April 2008.
Said Zorn: "He's very athletic and he won a lot when he was at the University of San Diego. He can really run and throw the ball. I think he'll be dangerous."
Johnson, 6-3 and 213 pounds, saw his first NFL action last Sunday taking over for Byron Leftwich.
At San Diego from 2004-07, he completed 68.1 percent of his passes for 9,324 yards, 105 touchdowns and 15 interceptions.
It is Johnson's mobility that has Greg Blache worried. In college, Johnson logged 1,822 rushing yards and 19 touchdowns.
"We went back and saw his 39 plays that he played in the preseason and the snaps that he had last week," Blache said. "We know that in college he was very effective running the football. We wouldn't be surprised if we saw what you guys call 'Wildcat'-- we call, 'Zip-series'--out of him.
"We expect to see him to try to pull the ball down and try and run on third downs like [Detroit Lions quarterback Matthew Stafford] did last week. They were successful on the one run, pulling it down and running for 21 yards on the third and 13."
Andre Carter has good speed as a pass-rushing end, but the rest of the defensive line are not as quick.
When linebackers, cornerbacks and safeties are in man-to-man coverage, they will need to be aware of the quarterback's movement, Blache said.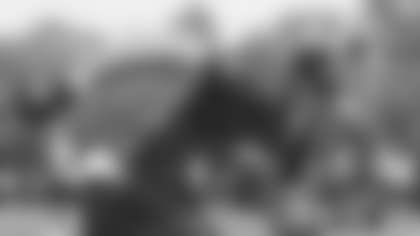 "[Johnson's mobility] could force us to mix up some of our coverages that we would play on a quarterback that would sit in the pocket," Carlos Rogers said. "With him, you cannot turn your back on him and give him lanes. The D-line has to do a good job of staying in their lanes, and also the linebackers."
---
-- DOUGHTY ON SPECIAL TEAMS
Reed Doughty may be a starter at strong safety now, but he is not eager to give up his role on special teams.
Doughty ranks second on the Redskins with six special teams tackles so far this season.
"I don't want to [give it up]," he said. "[Special teams coordinator] Danny Smith asked me about kickoffs and I said I wanted to be on kickoffs. If it gets too daunting, we have other guys that can step in there.
"I feel like that is kind of my spot, though. So I am not going to give it up easily."
Doughty is part of a youth movement on special teams this season.
With the departures of Khary Campbell and James Thrash last offseason, Smith has turned to Doughty, H.B. Blades, Kareem Moore and Byron Westbrook, among others, to pick up the slack.
Blades leads the Redskins with nine special teams tackles.
---
-- HAYNESWORTH BACK AT PRACTICE
Albert Haynesworth returned to practice on Friday after missing time earlier in the week to rest a strained glute.
He is officially listed as probable.
Haynesworth suffered the injury in last week's Lions game. He missed parts of the second and third quarter but was able to return to action.
Anthony Montgomery is listed as doubtful as he continues to struggle with tendonitis in his patella.