The Redskins have signed wide receivers Roydell Williams and Trent Shelton, the team announced on Monday.
Both Williams and Shelton were on hand for the start of OTAs on Monday.
Williams, 6-0 and 187 pounds, played with the Tennessee Titans from 2005-07. He was released by the club after preseason last year.
Williams suffered a broken ankle during practice in January 2008 as the Titans prepared for a playoff game.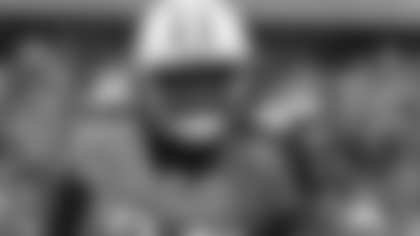 Williams was reportedly slow to recover from the injury and he was released by the club after preseason last year.
For his career, Williams has 84 catches for 1,139 yards and six touchdowns.
He had his best season in 2007, when he started 14 games and tied for the team lead with 55 catches for 719 yards and a team-high four touchdowns.
Williams was a fourth-round draft pick by the Titans in the 2005 NFL Draft.
At Tulane, Williams was a two-time All-Conference USA selection and set a league record with 35 receiving touchdowns.
Shelton, 6-0 and 207 pounds, spent 11 weeks on Seattle's practice squad last year. He was released by the Indianapolis Colts following the 2008 preseason.
Shelton entered the NFL as an undrafted rookie free agent with the Indianapolis Colts in 2007. He spent two weeks on the Colts' practice squad that year.
In addition, the Redskins have released offensive lineman Isaiah Ross, wide receiver John Halman, linebacker Ronnie Palmer, tight end Devin Frischknecht and defensive tackle Brigham Harwell.
Just as the last day of Redskins mini-camp was rain-soaked, so was the first day of OTAs on Monday.
The Redskins held their first of 12 OTA practices on Monda, with about 45 fewer players on hand.
Rookies had returned to college for graduation and tryout players went home hoping for a job offer.
Clinton Portis was among a handful of veterans not in attendance. Santana Moss was absent as he recuperates from shin splints.
"Clinton is doing his thing, but I know where Santana is," Jim Zorn said. "For some of the other guys, this is a voluntary deal. I know that we're going to keep working. A lot of guys got a lot out of what we did, so we're just going to continue on."
Carlos Rogers sat out the Monday OTA session due to a sore knee, Jim Zorn said.
Rogers was out in the rain watching practice from the sidelines, though.
"His knee's just a little swollen," Zorn said. "He's just sore. I just appreciated him coming out and not just blowing us off and saying 'See you later.'"
Rogers is expected to return to practice later in the week.