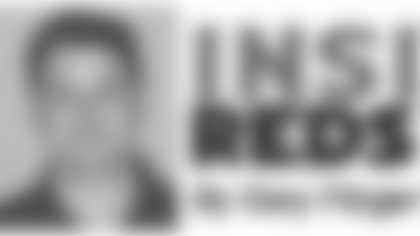 First practice, full participation.
Jim Zorn could only smile as he addressed the media following Monday afternoon's session.
Carlos Rogers, the Redskins' biggest injury concern with a calf injury, was full-go and even participated in a series of sprints after practice.
"I wanted to pull back some of those guys who have been working their way back, but he wanted to run them all," Zorn said. "He didn't try to show he could lead the whole pack, but he just cruised."
Rogers played in just one of the Redskins' three preseason games.
Albert Haynesworth returned to practice after missing all of last week--including the Jacksonville Jaguars preseason finale--due to a stomach illness.
Randy Thomas was full-go in practice after sitting out the Jaguars game for general rest. (Thomas is returning from off-season neck and knee surgeries.)
And Kareem Moore was back in action after missing the Jaguars game due to a hamstring injury.
The Redskins open the regular season this Sunday against the New York Giants at the Meadowlands. Kickoff is 4:15 p.m. ET.
It's a far different injury situation than Zorn had to deal with last year as a rookie head coach.
A year ago, Zorn had to worry about a bothersome calf injury to Shawn Springs, hamstring injuries to LaRon Landry and Devin Thomas and knee injuries to Jason Taylor and Malcolm Kelly. Zorn also lost Phillip Daniels for the season with a knee ligament injury.
This year, the Redskins have had a relatively injury-free preseason.
---
-- WOODSON SPARKS A MINI-CONTROVERSY
Andre Woodson's arrival on the Redskins' practice squad led to some interesting comments from Giants head coach Tom Coughlin.
Woodson played for the Giants through the 2009 preseason before he was released last Saturday.
Coughlin was asked if he thought the Redskins had signed Woodson to get an inside look of the Giants.
Said Coughlin to the Associated Press: "It's pretty obvious why he's in Washington. There's no question that's what's going on."
"We looked at him a year ago," Zorn said. "We drafted Colt [Brennan], they drafted Andre. We had no idea he was going to be available. With Andre getting released, it created something to consider. We had a chance to take a look at him as a guy we could develop."
Zorn acknowledged that Woodson could help "a little bit" with his knowledge of the Giants.
"He certainly knows their [plays] and he certainly knows their snap count," Zorn said. "But we're not going to put him under the microscope. He has a lot to learn to get up to speed."
For Woodson's part, he is all for spilling secrets.
"Right now, everything I can do to help the Redskins, I'm willing to do."
---
-- HENSON'S WAIT
It was 5:30 on Saturday afternoon, and Robert Henson still did not know if he had made the Redskins' final roster.
No phone call from the team all day. Was that good? Or bad?
Finally, he called Redskins director of player personnel Morocco Brown.
Only then did Henson, the Redskins' sixth-round draft pick last April, know he had earned a roster spot as the sixth linebacker.
"Morocco told me, 'You made it by the skin of your teeth. Now get in here and do the work,'" Henson said.
Henson may have earned his roster spot in the preseason finale when he logged seven tackles. He made it hard on himself by committing two costly penalties, though.
"A couple of coaches had alluded to me playing lights out [against the Jaguars], except for the foolish penalties," Henson said. "In my mind, that game helped. I felt more comfortable out there.
"I just told myself, 'You know what, I'm going to make it a hard decision for the coaches.' I just let all the pressure go and I played my best."
---
-- TIME TO GAME PLAN
The Redskins began to install their game plan for the New York Giants on Monday, with more implementations later this week.
"It's a divisional game, so it's very important," Jim Zorn said.
The Redskins and Giants are certainly familiar foes, but the Giants have dominated the series in recent years, winning five of the last six games.
Chris Cooley was asked if there was a benefit to playing an NFC East team in Week 1.
"I guess you could say there's a benefit going up against a team you know so well, but on the other hand we're going to New York to play an outstanding football team," Cooley replied. "I think there are a lot of other Week 1 games we would have rather had.
"But this is a big test for us. If we're going to be a good football team we might as well find out right now and win on a game on the road."