Hunter Smith suffered a groin injury in the first quarter of Sunday's game against Tampa Bay, forcing the Redskins to use Shaun Suisham at punter the rest of the game.
Smith said after the game that he was not sure if he would be available for next week's game at Carolina.
His status will be updated by Jim Zorn on Monday.
If Smith is unable to play, then the Redskins will have to sign a punter this week.
Smith suffered the injury on his first punt of the game with 11:32 left in the first quarter. He had a 47-yard punt and quickly went to the sidelines where he was evaluated by athletic trainers.
Smith was able to serve as a holder on field goals, but he could not continue as punter.
Smith's absence had a substantial impact on the Redskins the rest of the game.
Late in the first quarter, the Redskins faced a 4th-and-4 at the Buccaneers' 37-yard line. Zorn opted to go for the first down instead of having Suisham attempt his first NFL punt.
Campbell's pass across the middle to Malcolm Kelly was intercepted by cornerback Aqib Talib.
Later, Suisham was forced into action at punter when the Redskins faced 4th-and-13 at the 13-yard line. His first effort was a 31-yarder.
For the game, Suisham punted three times for a 26.7-yard average.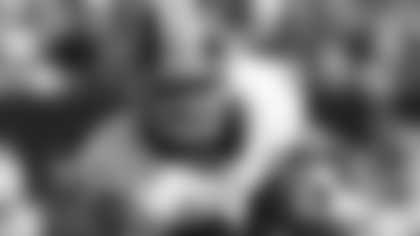 "What Hunter does is not easy," Suisham said. "People take it for granted. But it's not easy when you don't work at it. There was nothing pretty about what I did [Sunday]."
As kicker, Suisham performed better. He connected on a 42-yard field goal in the third quarter, and had two of three kickoffs for touchbacks.
---
-- PORTIS GETS GOING
Despite sitting out practice all last week due to a calf injury, Clinton Portis was ready for a heavy workload in Sunday's game against Tampa Bay.
He finished the game with 25 carries for 98 yards.
Portis said there was never any doubt in his mind that he would be able to play. He was listed as questionable heading into the game. He also has painful bone spurs in his ankles.
"It was just a matter of not letting my teammates down," Portis said. "To have the opportunity to come out here and fight with these guys--it's really going to be impossible to keep me off the field. Everyone gets into the 'game time decision' and 'hopefully he will play' and it's breaking news. Unless I've got a cast or some crutches, I'm playing."
The Redskins opted to keep four running backs active for the game. Along with Portis, Ladell Betts, Rock Cartwright and Marcus Mason were available to play as well.
Anthony Alridge was among the inactive players for the game.
The Redskins' complete list of inactive players was as follows: Kevin Barnes, Alridge, Edwin Williams, Robert Henson, D'Anthony Batiste, Marko Mitchell, Anthony Montgomery and Renaldo Wynn.
Montgomery was listed as doubtful heading into Sunday's game due to lingering knee tendonitis.
---
-- NEW SURFACE FOR FEDEXFIELD
FedExField is scheduled to have its playing surface re-sodded following Sunday's Redskins-Buccaneers game, the team has announced.
Replacement was scheduled after four home games, two concerts and a soccer match. The events were anticipated to take a toll on the field.
The re-sodding calls for removal of the existing grass, beginning immediately following Sunday's game. The new grass is going to be laid starting on Monday.