Roydell Williams is getting a crash course in the West Coast offense.
Williams signed with the Redskins on Monday after spending last weekend at the Minnesota Vikings mini-camp as a tryout.
Both the Redskins and Vikings run versions of the West Coast offense, and it's all new to Williams.
The West Coast offense is far different from the downfield passing offense he played in with the Tennessee Titans from 2005-08.
"Everything is different--the terminology, the concepts, the routes," he said. "I sat in [Monday] with the wide receivers coach and, man, my head was just spinning.
"The coach would talk about what the Z receiver runs on a play, and I tried to guess what the X runs, and I was totally off."
It was his first day of Redskins OTAs.
"Practice [on Tuesday] was great," he said. "What helped me was we walked through a whole lot of [routes] before we got into the 7-on-7 and the team situations. Plus, I was in my book all last night."
Williams, 6-0 and 187 pounds, was a fourth-round draft pick by Tennessee in 2005.
He gradually worked his way into lineup and by 2007 was a regular starter for the Titans.
He started 14-of-16 games and caught a career-high 55 passes for 719 yards and four touchdowns.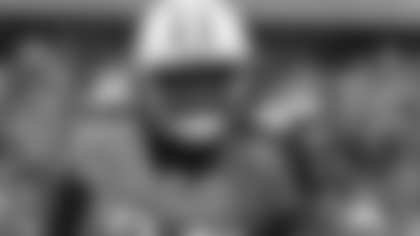 As the Titans were preparing for the AFC Wild Card playoffs in January 2008, Williams suffered a broken ankle during practice.
It was a crushing blow for Williams.
The worst was yet to come.
He was slow to recover from the injury and the Titans opted to release him after training camp last year.
"It was a big shock," Williams said. "I'm still shocked to this day. But you have to roll with the punches. That's all behind. Now I'm just trying to make this team.
"I'm happy. These guys are very welcoming. We have great leadership at the wide receiver spot."
Williams is expected to compete for a backup job at wide receiver.
The Redskins have Santana Moss and Antwaan Randle El at the top of the depth chart, with youngsters Devin Thomas and Malcolm Kelly hoping to stay healthy in 2009.
Williams has 84 career catches for 1,139 yards and six touchdowns.
He previously worked with Jason Campbell at the 2005 Senior Bowl.
-- THOMAS BACK AT PRACTICE
Devin Thomas participated in Tuesday's OTA practice at Redskins Park, three days after tweaking his hamstring.
Thomas was active in drills, catching passes from quarterbacks with other receivers.
His return provides some depth at wide receiver.
The team is without Santana Moss (shin splints), James Thrash (sore neck) and Malcolm Kelly (knee rehab).
Rookies Marko Mitchell and Jaison Williams are not available to participate until they have graduated college.
Meantime, Clinton Portis was at Tuesday's OTA practice after missing Monday's session.