Here we go again. Maybe these two should have their own TV series.
The New England Patriots and Indianapolis Colts seem to meet every season and there's always something at stake. They'll clash again on Sunday night in Indy, with the Colts (8-0) trying to remain unbeaten and the Patriots (6-2) seeking once again to knock them from that perch, as they did in 2007, when the Pats went 16-0.
"They're pretty good," Patriots coach Bill Belichick says with his usual understatement. "It's a big challenge for us."
In terms of organization, coaching and personnel, it's hard to find better exemplars of excellence and consistency.
Colts President Bill Polian built a team that has been to the playoffs for eight consecutive years, winning a Super Bowl. The Colts' record since 1999 is 122-46 in the regular season, best in the NFL. The Patriots are right behind at 116-52. They've won three Super Bowl titles in that time.
Try to find better quarterbacks who define an era. Peyton Manning has started 184 consecutive games (every one in his career) and ranks third all-time with 349 touchdown passes. Tom Brady? Well, he's Tom Brady again after missing all but one quarter of the opening game last season with a knee injury that required surgery. In 2007 he threw 50 touchdown passes, breaking Manning's record of 49. Their statistics this season match up eerily – both have thrown 16 touchdown passes and five interceptions.
If the Patriots win and Brady throws for 300 yards, it would mark 15 consecutive New England victories in which he has done that, one shy of John Unitas' record. If the Colts win and Manning collects 300 passing yards, that would give him 13 consecutive such performances in victories, tying Y.A. Tittle for third place.
"He's real good," Belichick says of Manning. "They have a good scheme, they've been running it for a long time and they have a lot of good players to run it with."
The playoff battles between these teams are the stuff of legend. The Patriots knocked the Colts out two years in a row and the Colts paid them back in the AFC championship game after the 2006 season by coming from 18 points down to win 38-34. They went on to defeat the Chicago Bears in the Super Bowl and Manning earned MVP honors.
When they played in the regular season of '07, the Patriots came in 8-0 and the Colts 7-0. The Patriots scored twice in the final 7:59 to win that one 24-20 at Indy.
"Through the years we've had plenty of our most critical games against them," Brady says.
The Colts won last season's Brady-less matchup, 18-15. He, of course, will be a concern again.
"He's throwing the ball with authority," Polian says. "He has confidence in his physical ability. He's not worried about the knee. He's delivering the ball on time. He's seeing the field as well as well as he always did. He's as good as he ever was."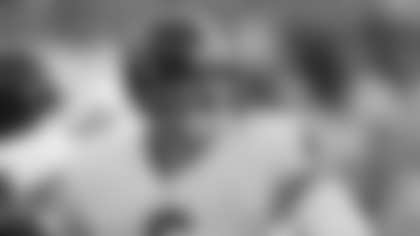 Jay Cutler has thrown a league-high
17 interceptions. (AP Photo)


So is this marquee matchup.
"We always enjoy playing them," says Brady, who is 7-3 against the Colts. "They seem to always be one of the best teams in the league and they're good in all three phases and very well-coached. It will be a great challenge for us."
JAY'S PLAY: The Chicago Bears continue to struggle mightily on offense and so does QB Jay Cutler. The Bears dropped their second straight and fourth in five games on Thursday night when they fell 10-6 on the road against the San Francisco 49ers. Cutler threw five interceptions, including one in the end zone on the final play with the Bears in position to score.
Cutler's passer rating is 76.0. He has thrown 14 touchdown passes and an NFL-high 17 interceptions and fumbled seven times, losing one.
Worse, that petulant look on his face and his overall composure seem to cast a pall.
"He doesn't get it," ESPN college scouting guru Mel Kiper Jr. said Friday morning on ESPN 980's Inside the Red Zone program hosted by Vinny Cerrato. "His body language is horrible."
The player Cutler was traded for, Kyle Orton, leads the Denver Broncos (6-2) into FedExField to play the Redskins (2-6) on Sunday. Broncos rookie coach Josh McDaniels' willingness to make such a bold move and trade a Pro Bowl passer for the seemingly ordinary Orton no longer looks so risky.
Orton has thrown nine touchdown passes and four interceptions (three against the Pittsburgh Steelers on Monday night) and sports a rating of 88.2.
"You could tell that Kyle is a very cerebral player. He understood defense and had a responsibility to get the offense into the right play and we value that capability in our offense," McDaniels said Wednesday in a telephone interview. "He's very accurate and he took care of the football for the most part. And he won.
"I evaluate quarterbacks on their ability to take care of the football, to score points and to win games and he's done those things in his career."
QUOTABLE: "I'm not opening that can of chili." – Carolina Panthers WR Steve Smith when asked how to fix the team's slumping offense. ... "We're finding ourselves to be complete now. I think we're done treading uphill as an offense. We found some level ground to run on." – Cincinnati Bengals RB Cedric Benson, who has four 100-yard rushing games this season, two shy of the club record. ... "I have no control over being liked." – San Diego Chargers coach Norv Turner. ... "The Redskins can beat anybody any week." – Denver Broncos CB Champ Bailey, who started his career with Washington. The Redskins have lost their last four games and haven't beaten anyone since Oct. 4. ... "When you work as hard as we did, you want to see results. I'm still looking for them." – Cleveland Browns RB Jamal Lewis, on his 1-7 team. He has announced plans to retire at season's end. ... "I like to see how we fare against the league's elite. This is where I would like for us to be as a team." – St. Louis Rams RB Steven Jackson. The Rams play the New Orleans Saints on Sunday, marking their third consecutive home game against an unbeaten team.
EXTRA POINTS: In conjunction with Veterans Day commemorations this week, the Oakland Raiders will air a radio broadcast of their game against the Chiefs in Navajo. It's to honor the Navajo Code Talkers, a unit of the Marine Corps during World War II whose unbreakable language codes played a huge role in successes in the Pacific theater from 1942-45. This will be the 11th time the Raiders broadcast in Navajo, which has no written form. ... Green Bay Packers QB Aaron Rodgers has been sacked an NFL-high 37 times in eight games. Even so, he has earned a passer rating of at least 100 in five of the last six games. ... NY Giants QB Eli Manning needs seven more completions to pass Kerry Collins (1,447) for second place on the club's all-time list behind Phil Simms (2,576). He'll have to wait to do it, though. The Giants, losers of their last four, are enjoying (we used the word guardedly) their bye week. ... The 8-0 Saints lead the NFL with 303 points scored. At that pace they would score 606, which would be an NFL record. ... Philadelphia Eagles WR-PR DeSean Jackson's six TDs have all covered 50 yards or more. Two of them came against the Redskins. ... NFL teams have combined to score 651 TDs, third-most in history through nine weeks of the season and the most since they amassed 655 in 2002. The nine-week record is 667, set in 1983. ... The Minnesota Vikings have won 14 of their last 15 against Detroit and stand a pretty good chance of going 8-1 as they come off their bye to play the Lions at home. ... Dallas Cowboys RB Marion Barber needs one yard to reach 3,500 in his career. He'd be the seventh Cowboy to hit that milestone. With six carries he will pass Herschel Walker (818) to rank eighth in rush attempts in club history. He could also catch Julius Jones (885) and Walt Garrison (899) this season. Emmitt Smith sits atop that heap with 4,052.
---
Larry Weisman covered professional football for USA TODAY for 25 years and now joins the Redskins Broadcast Network and Redskins.com to bring his unique viewpoint and experience to Redskins fans. Go to Redskins.com for the Redskins Blitz column and NFL Blitz on Friday. Larry also appears on The Jim Zorn Show on WRC-TV on Saturday night, on Redskins Nation, airing twice nightly on Comcast SportsNet, and on ESPN 980 AM radio, all in the Washington, D.C. area. Read his blog at redskinsrule.com and follow him on Twitter.com/LarryWeisman.