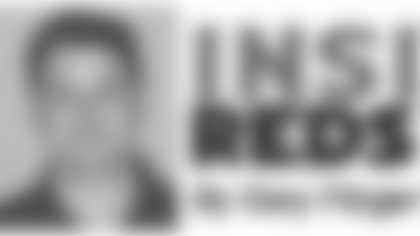 Brian Orakpo grew up in Houston and from 2001-04, he played football for Lamar High School in the city.
So it seemed appropriate that Orakpo should be drafted by the Redskins. He was the team's first-round draft pick, at No. 13 overall, in last Saturday's proceedings in New York City.
On Monday, Orakpo was introduced to media and staff employees in a press conference at Redskins Park.
The 6-3, 260-pound defensive end, formerly of the University of Texas, wore a tan suit, a white tie and Redskins cap.
"It's so ironic because I was a Redskin in high school--we modeled after the Washington Redskins," Orakpo said. "Now I've gone from a Redskin to a [Texas] Longhorn and back to a Redskin again.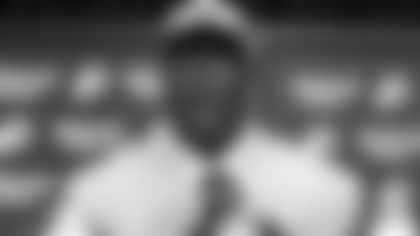 "My high school coach told me, 'Once you're a Redskin, you're always a Redskin.' So it's a great honor."
Orakpo, unlike most Texans, did not grow up rooting for the Dallas Cowboys. He said he was a Houston Oilers and then a Houston Texans fan.
So Orakpo wasn't kidding when he called coming to Washington a "perfect fit."
"[Vinny Cerrato] was the first guy to call me and tell me," Orapko said. "He was like, 'Are you ready for your second dinner?' Because the first time I came here [on a pre-draft visit], I had a great steak [at a steakhouse].
"He was like, 'Are you ready for your second steak, because we'd love to have you as a Washington Redskin.' So that was awesome."
Perhaps due to his high school affiliation, Orakpo was familiar with the Redskins organization.
He said he was eager to join a defense that finished fourth in the NFL last year. He was excited to play alongside Albert Haynesworth, London Fletcher and LaRon Landry, three players who he has watched and admired from afar.
He even referenced Redskins greats Dexter Manley and Charles Mann, two defensive ends who were starters during the team's Super Bowl era from 1982-91.
"I just want to bring my skills and do what I can do to help this team win games," Orakpo said. "First of all, I have to compete to earn my job, earn my position on the team and also earn respect.
"These guys have been winning games without me and I just want to come in and help keep this train rolling."
Orakpo is expected to play defensive end for the Redskins, but coaches have hinted that he may also play some linebacker on first and second downs.
Orakpo said he played some linebacker at Texas, so he is accustomed to covering running backs, tight ends and slot wide receivers as necessary.
"It's something I've done before," he said. "But anything I can do to be productive--that's the most important thing."
His role is to be determined in the weeks and months ahead.
For now, Orakpo can revel in his "perfect fit" along with his family, who sat in the front row at the press conference.
"I just want to show Redskins Nation that I am a guy who's here ready to work, come in humble, compete and most importantly win," he said.