Safety Akeem Davis says he wasn't pulling a Steph Curry today.
"It's her birthday, man," he said, smiling with his daughter, Carsyn, attached to his hip in a rainbow tutu.
One year ago exactly, with the Patriots in town, Davis had to leave in the middle of camp to see her be born. Now, she and her mom were visiting him.
"On her birthday, it's always good to see them come."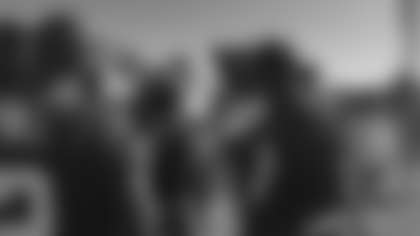 As players left the field, cornerback DeAngelo Hall and safety Dashon Goldson huddled together around Davis to sing "Happy Birthday" before some other defensive backs – Jeron Johnson and Phillip Thomas – came over to say hello.
Carsyn, mostly oblivious to the celebrations, seemed more fascinated in the microphones in front of her dad's face anyways.
"[They're down] just for the day, so we just sang happy birthday to her," Davis said. "That means a lot to her."