(From the Jacksonville Jaguars' inaugural media guide, 1995)
Randy Jordan didn't even initially realize that he had made NFL history Sept. 10, 1995, as a member of the Jacksonville Jaguars.
Jordan had just reached the end zone after receiving a 71-yard touchdown pass from quarterback Steve Beuerlein against the Cincinnati Bengals and was getting ready to toss the football away when teammate Desmond Howard raced up to him.
"He says, 'Jordan, Jordan, Jordan, get that ball up man! That's the first touchdown in Jaguars history!," Jordan recalled this week. "So that's when it hit me."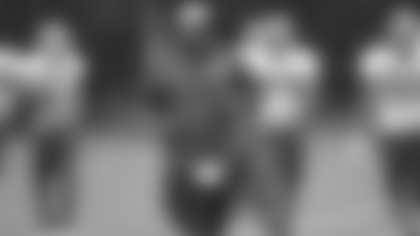 Yes, it was Jordan – who is in his first season as the Washington Redskins' running backs coach – who scored the very first regular-season touchdown in the history of the Jacksonville Jaguars franchise that September day in 1995.
Jordan, a running back, was one of the first 15 players signed by the Jaguars in 1995, when they joined the league as an expansion team.
The Redskins this week are preparing for Sunday's 2014 home opener against the Jaguars, and Jordan said the matchup brings back plenty of memories from his three seasons in Jacksonville.
"I still keep up with some of those guys and part of that first-15 group," Jordan said. "Jacksonville will always have a soft spot in my heart because that is where I played ball, and it gave me a start to play nine years in the league."
Jordan was a standout running back at the University of North Carolina from 1989 to 1992 and then played one season with the Los Angeles Raiders in 1993 before signing with the Jaguars.
He became a threat out of the backfield as well as on special teams during his nine-year NFL career, finishing with 574 yards rushing and seven touchdowns, while making 58 catches for 596 yards and two touchdowns.
On special teams, he amassed 801 yards on 38 career kick returns, including a season best of 553 yards on 26 returns for Jacksonville in 1996. He later re-joined the Raiders, where he was the special teams captain of the Oakland team that reached Super Bowl XXXVII, which lost to a Tampa Bay Buccaneers team that had a young offensive assistant coach on its staff named Jay Gruden.
Jordan said he still has the football from that historic touchdown against the Bengals in 1995.
"I'll never forget it – I was supposed to scatter out of the backfield, and we practiced it all week that if the backer came, I had to get my head around quick in the flat," Jordan said. "They were playing man coverage, and the safety couldn't get through to me because we had a couple crossing routes going on, and the quarterback Beuerlein hit me right in the flat, and the rest is history."
Redskins running back Roy Helu Jr. was surprised this week to hear his position coach was an NFL record holder.
"My coach scored the very first touchdown in Jaguars history?" Helu Jr. asked before getting confirmation. "That is very cool – only one person can say that. No matter how long the NFL will last or no matter how long their organization lasts or how well they do, Coach Jordan can say, 'Man, I did that.'"
Jordan began his coaching career as a special teams assistant in 2003 with the Raiders before stops as running backs coach with Nebraska, Texans A&M and North Carolina. Gruden hired him on his staff when he became the Redskins' head coach in January.
Helu said Jordan has been a valuable asset for the Redskins' running backs.
"What I think we admire and appreciate from our running back group is just his passion for the game," Helu Jr. said. "It rubs off on us and it creates a pretty fun and relaxing atmosphere within the room."