Redskins.com's Andrew Walker breaks down the key players and matchups to keep an eye on during Sunday's Redskins-Dolphins 2015 season opener at FedExField.
"Redskins-Dolphins: Ingredients For Victory" is presented by Papa John's. Every Monday after a Redskins game, get a Large Cheese Pizza for just $9.99. Receive a FREE TOPPING for every Redskins touchdown. DOUBLE THE FREE TOPPINGS when the Redskins win!
---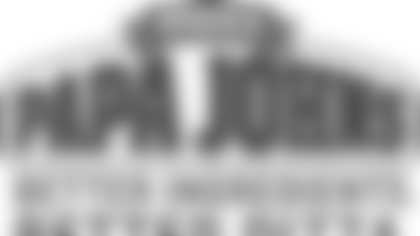 ](http://www.papajohns.com/index.html)
Redskins quarterback Kirk Cousins will be making the Opening Day start on Sunday against the Miami Dolphins, and you can bet he's all sorts of excited to get out and show what his offense can do.
And while the Redskins certainly have plenty of weapons on the outside with guys like DeSean Jackson, Pierre Garçon, Andre Roberts, Jamison Crowder, Ryan Grant and tight end Jordan Reed, it'll be important for Washington to establish everything it does against Miami on the ground.
The Redskins, of course, return starter Alfred Morris, who is coming off his second Pro Bowl appearance. He'll be counted on to carve up and wear down an extremely talented Dolphins defensive front – both utilizing a zone and a power running approach.
But many on Sunday are eagerly waiting to see what rookie running back Matt Jones adds to the Redskins' offense. Jones, a third-round pick this year out of Florida, is a huge back at 6-foot-2, 231 pounds, and showed in the preseason he can be a weapon running the ball (139 yards and a touchdown; 7-yard-per carry average on 20 total carries), as well as catching it (two catches, 28 yards) out of the backfield.
Jones adds a nice change-of-pace to Morris, who is more of a patient runner (but still certainly has violent tendencies), and then the Redskins are expected to utilize Chris Thompson in their third-down back role, who definitely has the "home run" capability, and has improved dramatically in his pass protection.
So, yes, Cousins will and should want to sling the football around on Sunday. But handing the ball off should be priority No. 1.
---
SPOIL SUH'S DEBUT
Sunday's game marks the Dolphins debut of defensive tackle Ndamukong Suh, who signed a record six-year, $114 million free agent contract with the team this offseason.
Suh established himself as a dominant force in the middle of the Detroit Lions' defensive line for his first five seasons, earning three first-team All-Pro selections and four trips to the Pro Bowl. In 78 regular-season games from 2010-14, Suh accumulated 238 tackles, 36 sacks, 13 pass breakups, two forced fumbles and one fumble recovery and interception apiece.
The Dolphins hope Suh will be the key piece to their goal of turning their defense from good into really *really *good. Last season, the Dolphins were led by Pro Bowl defensive end Cameron Wake, who had 11.5 sacks, and cornerback Brent Grimes, who had five interceptions, but their defense didn't have much fire power beyond that. Despite quarterback Ryan Tannehill's career year under center, Miami turned in its second-straight 8-8 season.
Now with Suh, the Dolphins have another superstar along their defensive front that, they hope, gets them over the hump and presents a major challenge for opposing offenses, starting Sunday against the Redskins.
"At the end of the day, teams are going to try and run their offense, that maybe trying to give someone help one way or the other, we see it often times, not just with Ndamukong, but a guy like Wake," Dolphins defensive coordinator Kevin Coyle said. "You go into a game and you're trying to determine how they are going to block him. In the past, sometimes teams just do what they've been doing and think that they can handle it. Other teams are going to keep tight ends in, chip with a back and so often times early in the game you'll know, 'All right, their plan is they're not going to let him go one-on-one the entire game.'"
---
SLOW 'EM DOWN
Twice a year, the Redskins know they have to prepare for Chip Kelly and the fast-paced Philadelphia Eagles offense.
Those experiences will help tremendously on Sunday, when the team takes on the Dolphins, who are bringing a similar quick-working offensive approach to FedExField.
The Dolphins haven't necessarily been one of the league's top teams when it comes to plays per second – their 26.95 plays-per-second rate in 2014 was 11th fastest in the NFL – but their approach is to increase pace by utilizing a quick huddle (if any) and having quicker pre-snap reads certainly has the Redskins' defense on alert.
Outside linebacker Trent Murphy, who will get the start opposite Ryan Kerrigan on Sunday, said being aware of assignments is important against a quick offense – and especially against Tannehill, who isn't shy about taking off and running with the ball.
"Just knowing what we have schematically as a defensive line and your rush lanes and who you're working with and what their tendencies are, those are all going to be important because if you open up in the middle or if you lose an edge, he could take off running," Murphy said. "And even a slow quarterback can gain a first down or what have you when that happens. So it'll be important to keep that pocket intact."
Over the offseason, Miami parted ways with Mike Wallace, Brandon Gibson, Brian Hartline and Charles Clay, four players who combined for almost 50 percent of the team's receptions in 2014. This year, they've added Greg Jennings, Jordan Cameron, Kenny Stills and DeVante Parker.
In the backfield, the team features Lamar Miller, who had an impressive 5.1 yards-per-carry average last season en route to 216 carries for 1,099 yards and eight rushing touchdowns.
---
PICK YOUR SHOTS
While the Redskins will hope to establish the run on Sunday, you know guys like Jackson and Garçon are going to express to Cousins that they wouldn't mind making Opening Day splashes, either.
Jackson last season was the league's top deep threat, leading the NFL with 20.9 yards per reception, and had 56 total receptions for 1,169 yards and six touchdowns in his first year with the Redskins.
Garçon, meanwhile, turned in a solid season, as well, in 2014, with 68 receptions for 752 yards and three touchdowns, and hopes to see those numbers increase even more now in his second season in Jay Gruden and Sean McVay's offense.
So you can imagine Cousins is going to take some shots down the field to get the ball in the hands of these playmakers against the Dolphins – but this time around, he feels as if he has grown enough as a quarterback to overcome his interception woes from last season, when he went from the starter to the No. 3 quarterback.
"I started watching some different cut-ups, tried to study some of the better quarterbacks in the league," Cousins said this week. "Different concepts, just try to go back and be a student of the game, really learn and challenge myself, make the most of the opportunity I had. Being that I wasn't active for some of those weeks, I wasn't having to prep in the same way for the team we were playing. I felt like, I'll go back and just study my own game and try to improve my own perspective. You're always looking at how can I get better, with the circumstances around me and the situation I am in. What can I do to get better and deliberately practice, whatever that is."