This new era of Redskins football began on Jan. 6 with the introduction of head coach Mike Shanahan.
It continued with the team's measured approach to free agency starting on March 5.
And it took a surprising turn on April 4 with the acquisition of quarterback Donovan McNabb.
This weekend, it all comes together.
Time for mini-camp, the first of the Redskins' offseason.
Shanahan makes his Redskins debut. McNabb makes his Redskins debut. So do running backs Larry Johnson and Willie Parker, offensive lineman Artis Hicks, nose tackle Maake Kemoeatu, quarterback Rex Grossman and a host of other new players.
Don't expect a whirlwind of hype, though.
The mini-camp is decidedly low-key.
Friday's practice is closed to the media. Saturday's practice is closed except for a 20-minute window when reporters are allowed to stand with 135 high school football coaches invited to watch the Redskins practice. Sunday's practice is the only open session.
The focus: just football.
This is by design, of course. Shanahan and his son Kyle, the offensive coordinator, are employing a new offense. Defensive coordinator Jim Haslett is toying with the 3-4. McNabb is just starting to get to know his new teammates.
Participation by players is not mandatory, but the team is expecting a strong turnout.
By Sunday, when media are invited to watch from the sidelines, it's hoped that practice has a flow to it and that players and coaches can run 7-on-7 and 11-on-11 drills with a degree of efficiency.
It won't always be pretty out there.
But this is what a new era looks like.
Since the start of the Redskins' off-season strength and conditioning program in mid-March, Shanahan has started to put his stamp on the team and the organization.
The weight room has been reorganized. Walls have had a layer of fresh paint. Discipline has been emphasized in the meeting rooms and film rooms.
"The thing about Coach Shanahan, you know that he is our leader," linebacker Brian Orakpo said. "You know he expects guys to work hard, expects guys to step into leadership roles on this team. We don't have a dictatorship or anything like that, but we've got a lot of expectations.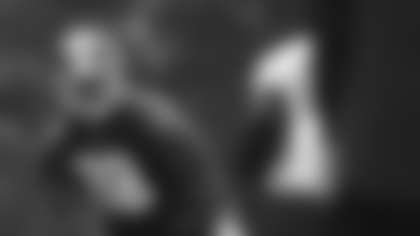 "We know that if there is a problem, he will address it. He will not shy away. He will not beat around the bush. He's a guy that is straight to the point. That's one thing you've got to respect from the guy. He's won Super Bowls and that's what we're trying to get.
"I'm excited he's here. From the first day he stepped foot in Redskins Park, there was a tone set, a message sent, that everyone has to bring their A-game or they won't be here. That's why everybody is here working hard and trying to get better."
Added wide receiver Santana Moss, who is playing for his third head coach in six seasons with the Redskins: "I just feel like right now some of the things that have been done here are coming from our coach himself. That's the attitude I get now.
"When you have a coach who is that hands-on with a team, then you know he is trying to take this team to the right place."
The Redskins' bold move of the offseason was to acquire McNabb in a trade with the Philadelphia Eagles. The six-time Pro Bowler immediately steps in as the leader of an offense that he is still learning himself.
His predecessor, Jason Campbell, is not expected to attend as he tries to find a trade partner--and a starting job--elsewhere in the NFL.
Campbell's status is just one of the question marks the team faces midway through the offseason.
Who is the left tackle? Who starts at running back? Will the Redskins' defense go 3-4 or 4-3? If it's a 3-4, who starts at nose tackle?
Some questions will be answered at mini-camp. Some questions will be answered at the NFL Draft starting next Thursday, April 22.
Most of the questions will be answered months from now, in training camp.
This weekend's mini-camp is just a starting point.
A fresh start after a 4-12 debacle.
"I think, so far, there has been a 'Let's get this thing right' attitude,'" Hicks, one of the Redskins' free agent pickups, said. "Phillip Daniels' locker is right next to mine and the first thing he said to me when I introduced myself to him was, 'It's time to get this thing right.'
"I've got a lot of respect for the guys in this locker room because they've been through some tough times and they have fought through. You can turn the film on and see that even though they had a tough season guys were still out there playing hard.
"When you have that attitude and you add a little skill to it, you've got all the makings for a great season."