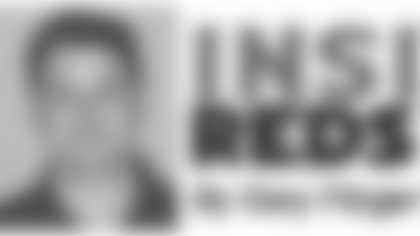 The Redskins are still technically alive for the playoffs in the NFC, but there was no talk of the postseason among players on Monday.
Instead, there was disappointment and resignation that the team had let a once-promising season slip away.
Just seven weeks ago, the Redskins were 6-2 and riding high.
It has all unraveled. They have lost five of six games to fall to 7-7 on the season.
On Sunday, they lost 20-13 to the Cincinnati Bengals, who were a dismal 1-11-1 heading into the game.
Any realistic hope of earning a Wild Card playoff berth was dashed in the defeat.
In the post-game locker room at Cincinnati's Paul Brown Stadium, players were left searching for answers for the team's performance since the 6-2 start.
"What has changed? I think that's what all of us are looking for right now," Chris Cooley said. "That's a great question in this locker room. Obviously we have stopped scoring points. We ran the ball a little better earlier [in the season].
"But we are still doing the same things. We are still practicing hard. We are still working hard."
Added Clinton Portis: "There is not one single person you credit when we were having success, and there is not single person you bale for what we have turned into. We have two more games left and we need to find a way to win those two games."
Jason Campbell said that players have to respond to adversity by trying to come together as a team.
"I think it is just a matter of us continuing to work and get some guys more experience, and at the same time trying to keep progressing and keep moving," Campbell said. "No matter what, we are trying to come together and trying to step up."
It's also a matter of capitalizing on momentum--and sustaining it--in games.
Campbell pointed to the Redskins' third quarter drive against the Bengals in which the offense marched down the field to the 1-yard line.
The Redskins were thwarted when Mike Sellers fumbled trying to lunge across the goal line for a score.
"Once we got the momentum, I thought there was no stopping us because we thought no matter what we were doing, we were going to be successful," Campbell said. "Even on that drive that we got all the way down to the goal line--if we scored, I am pretty sure we would have scored some more after that."
What's next? With two games left, the coaches and players must find a way to finish strong.
The Redskins close out the regular season with a home game against Philadelphia on Dec. 21 and a road contest against the San Francisco 49ers on Dec. 28.
"We still have a job to do," Portis said. "We still have two games to play. Cincinnati has not packed it in. That's why they beat us. We need to use that for motivation. We can finish our season strong and look forward to next year."
Head coach Jim Zorn wants players to put emotions aside and play hard in the next two games.
"What I need to do is make sure I speak to our players in our first meeting [this week] in a way that sets the stage for the week," Zorn said. "They need to hear from me and they need to know how I feel. And then we need to get ready.
"Some of life is just about making decisions. When you make a decision about something, you have to go hard regardless of how you feel sometimes. That's part of the tough part of life in a lot of situations. And this is one of those for us."