When you play the New England Patriots, the game doesn't start at kickoff. The game starts in the days leading up to the game.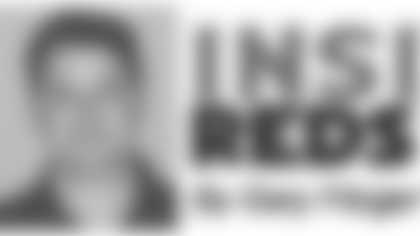 The Redskins know this, and that's why coaches and players--especially on the defense--have been tight-lipped this week.
The Patriots are a team known for finding motivation in even the most innocuous of comments.
"They have been focused all week long in preparation," assistant head coach-defense Gregg Williams said of his players. "Our meetings have been very focused. We have a typical routine that we always maintain. We're pretty structured in our meetings. We're pretty structured in our practices and I have seen them be very focused.
"Obviously the Patriots have our attention. It's not really that we've said anything differently, it's that they understand the task that we have at hand."
It seems improbable that the Patriots would need any extra motivation. They are regarded as a team playing in a league of their own. They have dominated almost every opponent in their 7-0 start, outscoring teams by a 40-17 margin.
Quarterback Tom Brady has thrown for 27 touchdown passes, a record pace. The offense is ranked first overall, while the defense is ranked third.
At 4-2, the Redskins aren't exactly pushovers, though.
They have the NFL's fifth-ranked defense, a punishing group with a hard-hitting secondary that could match up with wide receivers Randy Moss, Donte Stallworth and Wes Welker. The offense is a work in progress, but Clinton Portis is a hard runner and Jason Campbell has shown flashes.
Still, you won't hear the Redskins say that. In fact, you won't hear much of anything from players, especially on the defensive side of the ball.
In response to repeated questions about the Patriots this week, Fred Smoot--normally the most talkative of players--said simply: "We're just going to play football."
London Fletcher kept his answers short and nondescript. Carlos Rogers admitted surprise when he heard the Redskins were double-digit underdogs, but he also kept quiet. Several other players declined interview requests altogether.
"It would be pretty hard for us to say anything," head coach Joe Gibbs said. "You have a team that has played seven teams and been pretty overwhelming. No, I don't think it is anything like that. I just think [players] are realistic about the challenge."
Earlier this week, Gibbs proclaimed the Redskins to be "the biggest underdog in the history of sports" heading into Sunday's game against the Patriots.
That prompted a response from Brady.
"I think he's blowing smoke," he said from New England. "I promise you that he's not telling his team that, I'm sure. That sounds like something Coach [Bill] Belichick] would say, so he's trying to butter us up. You know, it doesn't work for us. We know what we're getting ourselves into."
During a Wednesday conference call, Gibbs was asked by Boston-area reporters to respond to Brady.
Said Gibbs: "What I was trying to be there was real truthful about it. What [point spread] are we at now? I don't know. How many points?"
Told it was approximately a 16- or 17-point spread, Gibbs replied: "Is that blowing smoke? I would say, as a 17-point underdog, I'd say that's pretty realistic. And it will probably climb.
"They're at the top of their game and I think everybody in the world realizes that I wasn't trying to blow smoke. I was trying to be realistic. I was trying to say, 'Hey look, these are what the facts are.' I wasn't trying to kid somebody."
Of course, Redskins players take their cue from Gibbs. They accept their underdog status for this Sunday's game.
"It's fun playing the underdog role," Casey Rabach said. "No one expects you to play well, no one expects you to win, and everybody expects you to go home with your tail between your legs. We're going to show up and hopefully good things will happen for us."
Added Chris Cooley: "I think we're excited to play. You hear every week about the Patriots being the best team in the NFL. Obviously you're going to go after a team like that.
"We're going to practice hard all week. It's a huge game for us. It's something that everyone around the league is going to watch. If it's a game that we can win, then everybody will be talking about us."