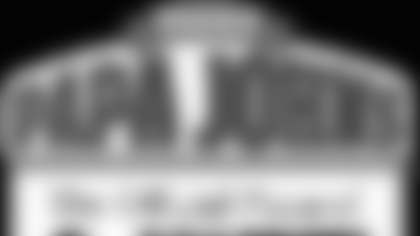 ](/news/article-1/papa-john-s-redskins-touchdown-special/048A1EB7-6061-49FD-958A-DAA6B0CAE730)
Every Monday, fans can order a large Cheese Pizza for only $8.99, plus for each TD that the Redskins score, fans get one free topping. And with a Redskins victory, fans get double the toppings!
Redskins.com breaks down key matchups to keep an eye on during Sunday night's Redskins-Giants game at the Meadowlands:
OFFENSE
Todd Collins vs. Giants Pass Rush
The Giants lead the NFL in sacks with 47, so pass protection will be paramount for the Redskins. The Giants will try to get pressure with their front four-a group that has combined for 35.5 of their sacks this season--but they also like to mix in blitzes/
It's Todd Collins's responsibility to read the Giants' blitzes and make sure receivers make adjustments at the line of scrimmage.
Collins is making his first NFL start since 1997. He has thrown 27 regular-season passes in the 10 years since his last start.
Collins shined in last week's 24-16 win over the Chicago Bears, coming in for an injured Jason Campbell. The Giants have had a week to prepare for Collins, though, and they could test his veteran skills by getting after him.
The Redskins will help take pressure off of Collins by trying to establish Clinton Portis, but the Giants have the NFL's seventh-ranked run defense. So the Redskins must be effective passing the ball.
Collins will have to get the ball out of his hands quickly on passing downs and Portis and Sellers must help pick up blitzers.
DEFENSE
Redskins Defensive Backs vs. Plaxico Burress
Plaxico Burress continues to be slowed by an ankle injury, but the Redskins expect him to play on Sunday night. With the injury, he caught seven passes for 136 yards and a touchdown in the Giants' 16-13 win over Philadelphia last week.
At 6-5 and 232 pounds, Burress presents a difficult matchup for Washington. In Week 3, he may have had his best game against the Redskins, grabbing five passes for 86 yards and a 33-yard touchdown that proved to be a game-winner.
The Redskins' pass defense is ranked eighth in the NFL Shawn Springs and Fred Smoot will be charged with stopping Burress and Amani Toomer. Leigh Torrence and David Macklin will serve in nickel and dime packages.
Safeties LaRon Landry and Reed Doughty will need to be solid in pass coverage to help prevent big plays. Burress has caught passes of 60, 53, 43, 33 and 32 yards this season.
SPECIAL TEAMS
Shaun Suisham vs. Lawrence Tynes
Shaun Suisham has been solid all season, but inconsistent in the last few weeks. Overall, he has kicked 23-of-29 field goals, but he missed 47- and 37-yard field goals last week against the Chicago Bears.
Lawrence Tynes has made 21-of-24 field goals--including eight in a row--for the Giants. From 40 yards or longer, he is 7-for-7 this season.
In a game with two solid defenses, the Sunday night matchup could come down to field goals. Weather could be a factor--some reports call for a wintry mix--so the game could come down to which kicker adapts the best at the often windy Meadowlands.
In his only outing at the Meadowlands, Suisham kicked a game-winning field goal to beat the New York Jets 23-20 in overtime.
1-ON-1
Chris Samuels vs. Osi Umenyiora
Most of this week's focus has been on the Stephon Heyer vs. Michael Strahan matchup, but the Redskins will likely give Heyer some help in blocking Strahan.
Samuels, a 4-time Pro Bowler, will be charged with stopping Umenyiora one on one, and that will be key to protecting Todd Collins's blind side. Umenyiora leads the NFL in sacks this season with 12, but six of those came in one game against Philadelphia.
In the Week 3 matchup between the two clubs, Samuels held Umenyiora to just four tackles and no sacks.
For the most part, Samuels has handled Umenyiora--except at Giants Stadium. In the Redskins' last two games at the Meadlowlands, Umenyiora has three sacks and one fumble recovery.