The opportunity to learn and grow extends far beyond the classroom. It exists in the real world.
That's one of the lessons London Fletcher hopes a special bunch of kids learned Tuesday as they took part in the Harris Teeter-Redskins "Harvest Feast" at FedExField.
Along with Redskins owners Daniel M. Snyder, Redskins players and hundreds of volunteers and corporate partners, they helped hand out baskets of food to the needy of Prince George's County, ensuring there would be a reason for giving thanks on Thanksgiving Day.
The Redskins, through their Charitable Foundation, began their Thanksgiving efforts in 2003.
They've distributed more than 600,000 pounds of packaged and fresh food and 204,000 pounds of turkey. Harris Teeter provided some 36,000 pounds of turkey for this event and Operation Blessing generated 108,000 pounds of other foodstuffs.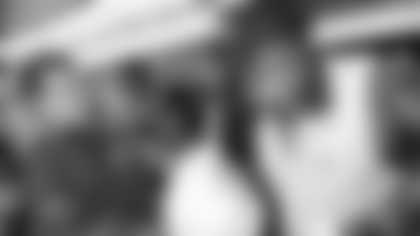 "The community of Prince George's County is just so important to us, and obviously with FedExField here, we're just happy to give back," Snyder said. "And this year we're doing a little bit extra, as everyone should nowadays."
Chris Samuels, Fletcher, Phillip Daniels, Rocky McIntosh, Lorenzo Alexander, Chris Wilson, Carlos Rogers, Justin Tryon and Colt Brennan were among Redskins players on hand.
FedEx Special Delivery featured Redskins offensive lineman Edwin Williams delivering turkeys and Thanksgiving food baskets to Prince George's County shelters, including ones in Landover, Md., Lanham, Md., and Capitol Heights.
Fletcher's London's Bridge Foundation partners with McFarland Middle School in Washington, D.C. Twenty-five students who make up London's Brigade bussed in from the city to take part in Harvest Feast, along with some 300 volunteers and corporate partners such as Ryan Homes.
"The kids were excited to be part of it," Fletcher said. "This was the third event we had scheduled for them and one in which they saw what it means to give back."
More than 20 NFL teams embarked on similar ventures scheduled for this week as part of NFL Community Tuesdays.
The Ravens, for example, are all over Baltimore. Jared Gaither (University of Maryland) hosted a celebrity cookoff at Baltimore's ESPN Zone to benefit the Maryland Food Bank. Ray Lewis and Mark Clayton are handing out Thanksgiving baskets. Ray Rice served dinner at a men's shelter.
The Miami Dolphins coaches and players chipped in to buy 900 Thanksgiving meals that will serve 9,000 people. The New England Patriots handed out 200 baskets in conjunction with Goodwill. The St. Louis Rams turned out at three Urban League locations to meet, greet and make sure 1,000 families will eat.
Fletcher's group took avid part in its work on a drizzly day, delighting in the chance to help the community while being part of a Redskins event. They previously visited the U.S. Capitol and met with D.C. Congressional delegate Eleanor Holmes Norton, toured the Newseum and attended a Redskins game.
"I'm constantly thinking about what I can do for them to help them and get them better opportunities, to let them experience different things that will shape them for the future," Fletcher said. "We're teaching them about leadership, volunteerism, recreation."
They helped the Redskins put the giving in Thanksgiving. All of those who gave their time and efforts deserve thanks.