The Redskins hosted its 2009 Draft Day Party on Saturday at FedExField, with an announced fan attendance of 26,750 for the event.
Fred Smoot, Kedric Golston, Rocky McIntosh, Ladell Betts, H.B. Blades, Kareem Moore, Lorenzo Alexander, Shaun Suisham and Ethan Albright were among Redskins players in attendance.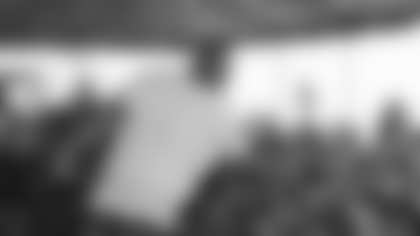 Fred Smoot greets fans.
(B.J. Corriveau Photo)


Redskins head coach Jim Zorn and assistant coaches Joe Bugel, Greg Blache, Sherman Smith and Danny Smith traveled by helicopter to the Draft Day Party two hours prior to the start of the draft.
Zorn addressed the fans from a stage set up on the field.
Here are some of his comments:
"One of the things that I tried to tell our team last year after we got started was if you do what you have always done, then you will be what you've always been. We are trying to continually improve our program.
"What happened to us last year was we started in the right direction and we leveled out a little too much in the end. We have regrouped [from last season's 8-8 finish].
"What we have done this offseason is we have really tried to improve our program. What we did first was re-sign DeAngelo Hall to play cornerback for us. The second thing we did was went out and got one of the top free agents in Albert Haynesworth.
"We just signed an offensive tackle, a free agent and former first round draft choice of the Buffalo Bills in Mike Williams. To wrap up the offensive line, we signed another guy from Buffalo, guard Derrick Dockery, who is a former Redskin.
"Today, because it is Draft Day, is another opportunity for us to get better. Today we can grab one or maybe two players if we do something and then tomorrow we can get four more players. Then we will sign some more free agents and then here we go.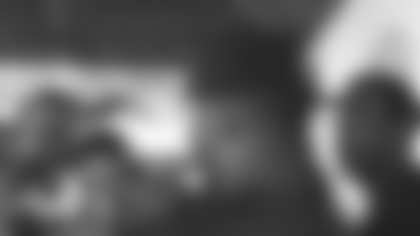 Kareem Moore signs autographs.
(B.J. Corriveau Photo)


"I cannot tell you at this moment who we are going to draft--we still have a couple of hours. I will guarantee you this, when we get into that draft room we will be very competitive. We will try to do the right thing by the Redskins and we will do the right thing by fans. We are going to put a great football team on this field.
"I want to thank you for coming out today. You are the greatest fans. The one thing that I learned in my first year as the head football coach here was about you and your support for our football program. It really goes unmatched.
"Whenever we went on a road trip, we saw burgundy and gold and it was awesome. You supported us throughout the whole year and we hope you will continue to do that.
"We are not going to stay the way we were, we are going to get better. We appreciate your support and we can't wait until the season starts.
"All I can say to you is 'Hail to the Redskins.'"
Draft Day Party festivities included tours of the Redskins' locker room, photo opportunities with the Super Bowl trophies and radio broadcasts by ESPN 980.
The 2009-10 Redskins Cheerleaders made their debut and the Redskins Marching Band performed for fans.