On Thursday, the Redskins will try to snap a painful losing streak, one that's made their consumption of turkey, stuffing, cranberry sauce and pumpkin pie much less enjoyable.  The Cowboys have beaten the Redskins all six times the rivals have met on Thanksgiving Day.
The most agonizing loss occurred at Texas Stadium on Nov. 28, 1974, when the Redskins were victimized by a rookie quarterback who crafted the only moments of fame in his brief NFL career.
That man, Clint Longley, delivered one of the most astonishing performances in the history of the storied Redskins-Cowboys rivalry.  In less than a half of play, he directed three second-half touchdowns drives and threw two scoring passes, including a 50-yarder with 28 seconds left that hoisted the Cowboys to a 24-23 victory.
At the time, the intensity of the rivalry was at a fever pitch.  The architect of the feud was George Allen, then in his fourth year coaching the Redskins.  He despised the Cowboys because of their snooty reputation, the shiny star on their helmets and their self-promotion as "America's Team."
He also thought they received favoritism from the NFL because their general manger, Tex Schramm, was buddies with league commissioner Pete Rozelle.  To antagonize the Cowboys and Staubach, Allen assigned one of his loyal veterans, defensive tackle Diron Talbert, to make outrageous comments such as "Roger Staubach wears skirts."  Such hostility toward Dallas spread through the organization.  The Cowboys detested the Redskins, too, and the teams exchanged charges of dirty play and spying on practices.
"It was very easy to build a rivalry with them," said Redskins general manager Bruce Allen, the son of George Allen.  "Dad believed they were standing in the way of what we wanted to accomplish.  They were also trying to be something other than a football team."
In the days preceding the 1974 Thanksgiving clash, Talbert shared an idea with the press of how the Redskins could win their fifth straight game.
"If you knock (Staubach) out, you've got that rookie facing you," he said of Longley.  "That's one of our goals.  If we do that, it's great.  He's all they have."
Talbert got his wish.  With the Redskins leading, 16-3, early in the third period, a vicious hit by Redskins linebacker Dave Robinson forced Staubach out of the game.
In came Longley, who had moved up to second string a few weeks earlier after Dallas traded veteran Craig Morton.  The rookie quickly threw a 35-yard scoring pass to tight end Billy Joe Dupree.  He later steered a four-play, 64-yard drive that ended on fullback Walt Garrison's one-yard scoring run.  The Redskins regained the lead, 23-17, on running back Duane Thomas' 19-yard run early in the fourth quarter.
After recovering a fumble with 2:29 left, the Redskins seemed en route to a joyous Thanksgiving dinner.  "We could smell the turkey," Redskins receiver Charley Taylor said.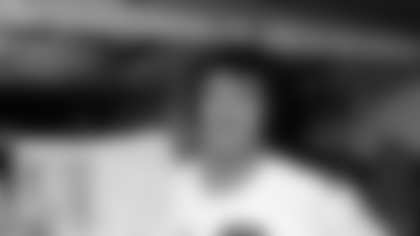 But Longley was calm and in control when Dallas regained possession on their 40 with 1:45 to play and no timeouts.  He even told Garrison to "shut up" after the fullback brought a play into the huddle and began explaining it.
On 4th and 6, Longley completed a pass to receiver Bob Hayes just past the first-down marker.  Two plays later at midfield, the quarterback, nicknamed the "Mad Bomber" for his tendency to go for broke in practice, went for it all.  With good protection, he spotted wide receiver Drew Pearson racing downfield past rookie nickel back Ken Stone.  Pearson hauled in Longley's perfect strike inside the 5 and scored.  The conversion put the Cowboys up, 24-23.
Redskins quarterback Billy Kilmer fumbled on the next possession, and Dallas ran out the clock before 63,000 delirious fans.
The post-game cameras were glued to Longley, who completed 11 of 20 passes for 203 yards and two touchdowns.
"I wasn't nervous, but I sure was excited," he said at the time.  He said he was aware of the inflammatory comments by Talbert, who also was the focus of media curiosity.
"Reporters came up to Diron and said, What did you think of that Longley kid?' " Redskins defensive end Ron McDole said.  "He said,Who in the hell is Longley?'  They said, The guy who just beat you.'  He said,Pretty good.' We didn't know who he was, we didn't know his name or anything."
"I don't think Longley caught us by surprise," Talbert said.  "The worst thing about it is that Staubach was having a bad day.  We said we were going to knock him out and, sure enough, we did.  We just made a mistake or two in being lined up in the wrong defenses.  Could have been we didn't know (Longley) had an arm that strong, but if you're a good defensive team it doesn't make any difference who the quarterback is."
Longley turned out to be a one-game wonder.  He returned to the bench and stayed there through the 1975 season before being traded to San Diego, where he played one year as a backup and retired from the NFL.  One of the nine career games he played in, though, will forever haunt the Redskins.