The Redskins concluded their first mini-camp Sunday, pleased with the progress they've made and maybe just a little daunted by how much further there is to go.
Spirited workouts bore the Mike Shanahan trademark – fast pace, hustle, no time wasted. New offensive and defensive schemes got their initial implementations and quarterback Donovan McNabb assumed that veteran mantle of leadership.
This was also the first time that father and son – Mike and Kyle Shanahan, the offensive coordinator – worked together at a practice.
Let's look at this in pieces and try to cover the full 100 yards.
Offense: McNabb leads and others follow. No question there.
"He's got charisma," Mike Shanahan said.
He's also got some familiarity with this style of offense and tight end Chris Cooley said it seemed McNabb "had been here forever." It's actually been two weeks since the Redskins acquired him in a trade with the Philadelphia Eagles.
"I'm getting adjusted. It takes time," McNabb said, likening himself to "a freshman in college."
Running back Clinton Portis, cleared for full activity after missing the second half of last season with a concussion, said he felt well and had no problems with the club adding veterans Larry Johnson and Willie Parker to the mix.
"We'll find a way to make it work. I think everybody will add different dimensions," he said.
Worn down a bit by "naysayers and haters," Portis added: "I've got something for y'all."
The offensive line, which struggled last year even before injuries struck, will have a new look without left tackle Chris Samuels and right guard Randy Thomas (released) but Kyle Shanahan said he liked the group as it exists. Stephon Heyer lined up at left tackle and free agent Artis Hicks at right tackle in this go-round.
"You see size and you see speed," Kyle Shanahan said. "You can't ask for more."
He stressed flexibility in using receivers and said he'd be comfortable playing tight ends Cooley and Fred Davis at the same time instead of three receivers in certain sets if that seemed to work better.
Defensively, the Redskins remain coy about saying they are committed to a 3-4. Yet that appears to be the base look.
When defensive coordinator Jim Haslett talked about the absent Albert Haynesworth from this voluntary camp, he said: "When he does show, he'll have to play all three positions" in the defensive line. Three, not four. Sounds like a 3-4, no?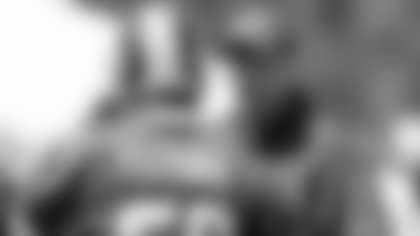 Haslett said he wants to have linebacker/defensive end Brian Orakpo rush the passer more. Orakpo had 11 sacks as a rookie Pro Bowl pick and Haslett said, in rough figures, Orakpo rushed the passer about 250 times in 1,000 snaps last year. Look for that to triple.
The many-faceted fronts pleased Orakpo.
"It was a lot of different schemes we were doing it was fun for me because I got to rush more," he said.
The defense also put more emphasis on attacking the ball, trying to strip it from runners and receivers.
"We need to get more turnovers," Haslett said. "That's the No. 1 thing we're trying to get through."
The Redskins ranked last in the NFL last season in takeaways and that has been a consistent weakness year after year. In these workouts, defensive backs pursued receivers and tried to rip the ball away, while backs also had to protect the rock against prying hands.
"We're focusing on stripping the football, really trying to take it away," linebacker London Fletcher said.
LaRon Landry, who struggled with the move from strong safety to free, should be more comfortable in Haslett's coverages. Haslett said the defense won't rely so much on a strong/weak scheme but could divide the field in half and play left and right or vary assignments depending on the offense's alignment.
Landry's problems last season, Haslett said, were in part due to how he was deployed.
"Some of that, you have to put him in the right spot," Haslett said. "He's so fast, he didn't know how to harness his speed."
Haynesworth, linebacker Rocky McIntosh and quarterback Jason Campbell did not show for these workouts. Campbell's agent has been granted permission to seek a trade and McIntosh has contract issues. Mike Shanahan said Haynesworth remained a key part of the Redskins' plans.
"There has not been one mention of trading Albert Haynesworth or any other player since I've been here," Shanahan said, with the exclusion of Campbell.
Haynesworth has been working with his own trainer and Shanahan wants to see results from that choice. Shanahan stresses the team staying together and committing to the off-season program as the path to achievement. Haynesworth said he would attend the mandatory camp in June.
"He's made a decision to do what he wants to do," the coach said. "I'm hoping he can come in here and prove me wrong."
The Redskins hustled and showed an eagerness to learn in three heavy days of work on the field and in meetings. They're aware of how infrequently they've been to the playoffs (three times since 1999, last in 2007) and that they were 4-12 in 2009 and, as Portis put it, "the laughingstock of the NFC East."
Shanahan won consecutive Super Bowls during his tenure with the Denver Broncos and did not return to coaching with lesser goals in mind.
"He's not coming here with the expectation of winning eight ballgames," Fletcher said. "He's here to win Super Bowls."
---
Larry Weisman, an award-winning journalist during 25 years with USA TODAY, writes for Redskins.com and appears nightly on Redskins Nation on Comcast SportsNet. Read his Redskinsblitz blog at Redskinsrule.com and follow him on Twitter.com/LarryWeisman.