The Redskins got a taste of what a high-octane offense can do in Sunday's game against the Houston Texans.
That's what made losing 30-27 in overtime so tough to take.
"We know we had the game, we just have to figure out how to finish it," said wide receiver Santana Moss, who logged 10 catches for 89 yards. "When you're a good team, you have to go through these situations to find out where you're at. We can't drop our heads. We have to build from this."
For everyone involved in the Redskins aerial attack, there were plenty of highlights vs. Houston.
Quarterback Donovan McNabb had a stellar day, completed 28-of-38 passes for 426 yards – the fourth-best passing day in Redskins franchise history – and one touchdown.
It was also McNabb's third-best passing performance ever in his 12-year career.
Against the Texans, McNabb completed a pair of 62-yard passes – one to Joey Galloway and one to Fred Davis. He also completed a 35-yarder to Chris Cooley and a 34-yarder to Roydell Williams.
"Offensively in the passing game, we were able to connect and get the chains moving," McNabb said. "I think when you get in a rhythm, you kind of want to stay with it."
McNabb's first pass of the game seemed to set the tone for the game.
He threw a short pass to fullback Mike Sellers who turned up-field for yardage. Sellers leaped over a Texans defender and ended up with a 22-yard gain.
Sellers had three catches on the drive that ended with a Graham Gano 41-yard field goal.
The Redskins' second score – a 27-yard Gano field goal – was set up by McNabb's 35-yard pass to Chris Cooley.
In the second quarter, the Redskins' offense kicked into gear with McNabb targeting wide receiver Joey Galloway on a deep route.
Galloway got a step on rookie cornerback Kareem Jackson and caught a 62-yard pass from McNabb to the Texans' 11-yard line.
Three plays later, Clinton Portis crossed the goal line for a 1-yard touchdown run.
Late in the second half, McNabb found tight end Fred Davis on a deep route along the left sideline. Davis caught the ball and raced downfield, picking up a great block by Portis on safety Eugene Wilson. Davis was pushed out of bounds at the Texans' 1-yard line.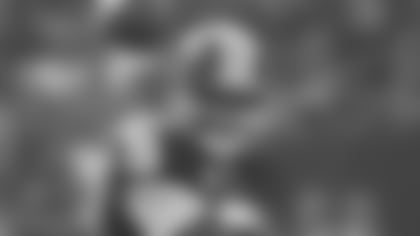 One play later, Portis maneuvered into the end zone on another 1-yard touchdown run.
In the third quarter, the Redskins built a 27-10 lead after McNabb tossed a 22-yard touchdown pass to Cooley.
Cooley initially stayed in to block on the play, then released on a route to the end zone. He got a step on linebacker Xavier Adibi in coverage and McNabb had just enough time to get Cooley the ball for the touchdown.
On that drive, McNabb completed 6-of-7 passes and connected with six different receivers.
Late in the game, with the Redskins clinging to a 27-20 lead, the Texans changed their coverage, McNabb said.
"They went back into a zone defense and [zone] blitz," he said.
That forced the Redskins to focus more on short and intermediate passes and the run game as they tried to wind down the game clock.
Didn't work. The Texans tied the game at 27-27 late in the fourth quarter.
In overtime, McNabb turned to Moss and Cooley, who have quickly become his most reliable targets in clutch situations.
McNabb completed a 12-yard pass to Moss, a 7-yarder to Cooley and an 11-yarder to Moss to move the offense into scoring range.
Graham Gano could not complete the drive, as his 52-yard field goal attempt sailed wide right.