The Washington Redskins Charitable Foundation partnered with Inova Children's Hospital to surprise patients and their parents with visits from Redskins players on Tuesday.
The players distributed Redskins gear and toys to the children, and took photos with them and their families.
In attendance were Vernon Davis, Matt Flanagan, JP Holtz, Arie Kouandjio and Jeremy Sprinkle.
"The biggest thing is the smiles on their faces when you walk into the rooms. Just to see the joy on their faces," Holtz said. "I know a lot of us have kids ourselves, it would be terrible to see them in that position and it just brightens our day being able to see their smiles and their faces."
Holtz added that being paired with Vernon Davis for visits helped him make an even bigger impact on some of the families. Davis is one of the more recognizable players, having been in the league for 13 years.
"Being with Vernon Davis and walking in the rooms, I mean everyone knows who he is. The parents are just ecstatic, it just brightens the whole room up. It's an awesome feeling," Holtz said.
Jamie Gentille, the director of child life services at the Inova Children's Hospital, has been with Inova for 16 years and has seen first-hand the difference that player visits can make for the children.
Gentille said that her job is to give the children at Inova as positive an experience as possible.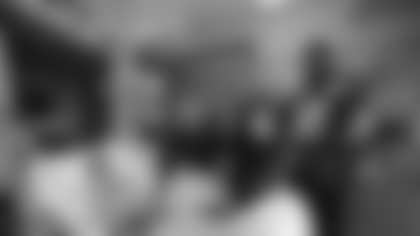 "They have to come here for tests and procedures but our goal is to try to make it fun and to try to decrease anxiety and help kids get through it and things like this are essential in that. It really helps us give kids a positive experience while they're here," Gentille said. "And when they go home and they think about their hospital stay they don't necessarily think about the pokes and the procedures, they think about the cool Redskins players who came and saw them.
Gentille added that the day-to-day of being in a hospital is taxing for children, but seeing a professional athlete, someone who serves as a role model for them, can completely change their mood. She added that the visits also help the parents of the children.
"Sometimes they even get a little emotional and are just thrilled that someone's coming to see their child and it's just so inspiring to see that," Gentille said.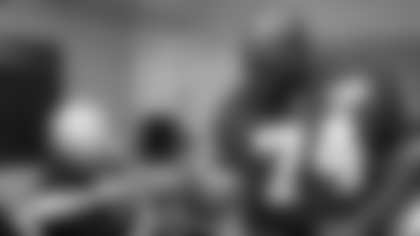 For Kouandjio, the parents provided him with as much of a boost as he could provide them.
"It was a great day, I got to spend some time with a bunch of kids who are going through some hard times. What's really special is just the parents and seeing the strength of the parents," Kouandjio said.
Kouandjio mentioned one dad in particular who spent hours each day walking his child through the halls of the hospital to get him out of his room while playing music, with one arm pushing his wheelchair and the other pulling the IV pole along.
"They're just going through such a hard time, I always try to be someone who helps people and if this helps in any way I'll be here," Kouandjio said.
Gentille said the player visits were helpful because the players were able to provide something the everyday caregivers are not able to.
"For a lot of these kids it gives them such hope and encouragement. To see these guys who work really hard everyday to come and just give them an 'Atta boy,' or a 'You got this,' or a 'You know what, I've been through some stuff too and you can do this.' It's so powerful and it's so much more impactful than anything that we can tell them, so it's pretty amazing," Gentille said.