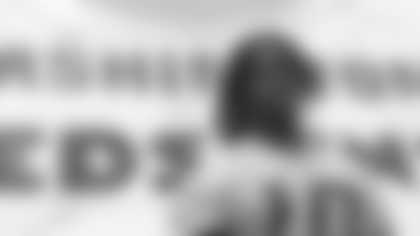 Redskins head coach Mike Shanahan and quarterback Robert Griffin III addressed the media following OTA practice on Thursday, June 6, 2013 at Redskins Park.


Quick Hits With Quarterback Robert Griffin III:

On additions or changes to his regimen since last week:
"Yeah, you know this week was a big week going four straight days on the field. On previous weeks, we'd have a day off. So to go the four straight, throwing every day, planting, cutting, doing the routes with the receivers, all of the guys kind of did a good job balancing the act for the four straight days. I've started throwing on the run a lot more, as you guys saw, doing a lot more plant throws out of the play action, the type of throws that we do in our offense. That's the encouraging part. I've also bumped up the long distance running, as you guys saw today, ran a little bit more. That's all good. I'm feeling more comfortable doing everything. The coaches are saying that I look a lot better. When they do get to sneak a peek in there, they say I look a lot more comfortable throwing the ball. I look relaxed and it shows." On there is any soreness in his knee after four straight days of practice:
"No, that was the encouraging part today. You know, of course whenever the media is out here or fans are out here, you get a little extra juice, but I felt good today regardless. That's what I'm excited about. To have those four straight days, to still feel good after those four days with no soreness is a good thing."
On if running the first team offense on the first day of training camp is a realistic goal:
---
Quick Hits With Head Coach Mike Shanahan:
On quarterback Robert Griffin III setting the first day of training camp as his target for returning:
"Well, you always want somebody to have goals, that's for sure. You want him to come back as soon as he is ready to go, but the doctors have got to OK him. From the beginning they have talked about the recovery time being anywhere from seven months to nine months. I think August 9 is seven months, and so we will just have to wait and see."
On the return of running back Roy Helu, Jr.:
"Helu brings a lot to the table. I'm glad he's feeling good. He has practiced the last couple of days. He has looked good in practice. He talked to Dr. Anderson a couple days ago. He OK'd him, and it's fun to have him out there. Hopefully he keeps on getting better and better, but anytime you have a guy that weighs 225 pounds, he under that 4.5 40, has receiving skills and the opportunity to make a big play… So it's good to have him back and a chance to compete."
On veterans like Fletcher attending voluntary practices:
"Well, that's why London is, you know, playing at 38 years old because that's a priority for him. Staying in great shape, understanding the defense inside and out, leading by example. That's why you want guys like that on your football team. If they don't do that in the offseason, that means they're probably going downhill very quickly. The great ones I've been around, Jerry Rice was there at 40 years old and he was the first guy there and last guy to leave, one of the reasons why he played so long."