The Redskins' tight ends coach reflects on growing up in a football family, his evolution as a coach and the joy he has working with his position group.
Whenever I see you on the field, it seems like you're having fun. Is that an accurate statement?
You know, with the hours and stuff during the season and all the work you put in, if you don't have any fun out there I just think it'd be a miserable job. The best part about this job is to be around the guys, the players when they're out on the field. All the work we put in behind the scenes is to get out on the field. You got to have a little fun with the guys and keep it light.
How do you keep it from feeling monotonous?
I think that's part of our job is to motivate. As coaches, you're not just teaching scheme, you've got to keep the guys invested in what you're doing, what you're putting in. I'm not going to lie, sometimes even as a coach you're going to have to fake it a little bit. I expect the players to fake it on their down days when they get out there. When it's time to work, it's time to work, but we can also have some fun .
How would you describe your coaching style?
First and foremost, just from my upbringing with my grandfather [Bum Phillips] and my dad [Wade Phillips] coaching, they always kind of stressed that coaching was just teaching. I really try to take a teaching type approach and try to get guys to buy in to what we're doing and understand why we're doing things so that they understand the scheme, they understand the reasons behind it, so that they want to do it themselves. They're not just doing it because their coach is telling them to or yelling at them to do something, they're doing it because they understand the importance of it.
Did you take anything from your grandpa and dad's vocal style?
Yeah, I mean they're not loud, aggressive type personalities, and I wouldn't say that I am either, but I think if you talk to my guys they would tell you that if I need to make a point, I can do that. Sometimes, you lose your cool, even when a lot of my life, a lot of my thoughts, are trying to control my emotions, and be kind of the same guys every day. Sometimes a point needs to be made and if it's not getting through to them in my normal style, then I've got to change a little bit, I've got to get the results one way or another. You've just got to be willing to do that. Any leadership position you have to not shy away from confrontation if that's needed.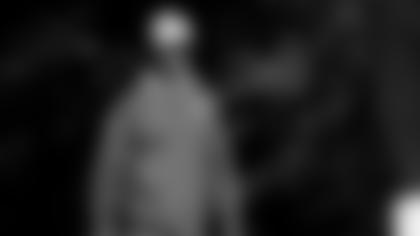 You mentioned Bum and Wade. How do you remember growing up with them and the memories of talking football and watching them coach?
A lot of it was just things that I wasn't even registering at the time were helping me in my future career. I grew up with an NFL football coach as my dad. So, the conversations, just talking about football. He wasn't trying to train me to be a coach, he's just, comments he makes about a game we're watching or being around the facility, being around the players. Seeing him in that environment, once I got to the NFL there was no anxiety as far as working with NFL players. I had no nervousness going into that room and interacting with NFL football players, as maybe a new coach in the league might. But I'd seen my dad in that environment for years, and years, and years, and some of the things I didn't even realize I was taking in throughout the years just ended up helping me without even me knowing.
Just like terminologies and things he would say?
Terminology, my dad loves, he's big on clock management stuff. So he was always, 'Why'd they do that? They should have taken a timeout there.' Things like that, that I was just hearing and absorbing ended up helping me later.
I imagine other kids were just talking about random stuff, and you're already processing the intricacies of football. Did you feel a little different?
It was just, I didn't know any different. People ask about, "Was your dad not around?" Maybe he wasn't, but it was my norm. That was my normal life, so I didn't realize it at the time. There was a lot of kids that knew a lot of stats of everybody, but I was always into football. I always thought I'd be involved in some way. I could never picture myself buying a ticket and just sitting in the stands and watching the game. I just wanted to be involved.
I was going to say, if you tried to picture yourself not involved in football, you probably couldn't even do it.
I'd have a hard time trying to think what I would actually have a passion about, besides football. I haven't come up with anything yet. But if I ever do, my grandfather was lucky because he loved ranching. He went from something he loved in football, and then when he retired he bought a ranch. Worked the horses and the cattle, baled hay, and drove his tractor. He had two passions. That's why I worry about my dad, that's why my dad is still coaching at 73 years old. He has nothing else, nothing else.
How would you say you and your dad's relationship evolved as you still are both coaching? Even from starting under him to where you are now?
I think number one, he's just a dad. He's a proud dad and proud of what I've been able to accomplish and that I've been coaching in the league for about nine years since I worked with him. He did hire me, he did bring me into the league and give me that opportunity. But, I've kind of hoped that I'm making my own name in the business. But at the same time, hope that my reputation someday can be as good as his. Not only as a coach, but just how he's viewed as a person amongst our peers.
When was the first time you felt confident as a coach?
That's a good question. Even when I was a student assistant, the good thing about any business is you start off in lower roles where you don't have as much responsibility. So, you're drawing cards and you're running scout teams. When I was a student assistant at UTEP and I was breaking down film, you're kind of learning from the bottom up. The things that go behind the scenes, not just the out on the field stuff, all the work that goes into it. You get more comfortable in that role and then you get a little more responsibility, and then you get comfortable there. But, certainly there was some reservations. Part of it is public speaking, you gotta get up in front of either a position group or potentially a whole unit, and address the group. There was certainly a little nervousness there at first. But the more you do it, the more comfortable you get.
How tough is it to switch teaching positions as an NFL coach?
It certainly wasn't my plan when I started off coaching quarterbacks. I thought I would coach quarterbacks until I potentially moved up to a coordinator position. Once I got into the league and I was a quality control, I was helping with receivers for three years, I was able to sit in that room with wide outs. Our quarterback room in Dallas was pretty full, because Jason Garrett was in there, Wade Wilson, there were a lot of people in that room. So I asked our O-line coach if he could use an assistant and he said, if Jason's OK with it, I'll put you to work. It was a great experience for me to sit in an offensive line room. Half the time those guys are in the corner doing their drills and meeting on their own, and to hear what kinds of issues and drills and schemes and to learn a lot of that technique, it helped me a lot as a tight ends coach. I didn't have this plan to move around positions, but I'm glad I did because I feel like I could catch anything on the offense.
Is that with the intention of becoming an offensive coordinator, or even head coach some day?
It's absolutely my goal is to be an offensive coordinator. At some point [head coach]. At this point I would love to coordinate an offense and call plays and install an offense with a group, that's something that I really am striving for but what I've learned over some years is that my career didn't necessarily take off the way I pictured as a naïve young coach. Ok, "I'll probably be QC, then a position job," it happens different for everybody but that fact that it happened the way it did, and I was able to move around positions, it's hard to go back and learn some of those things. To sit in an O-line room for three years was invaluable and I learned so much football and if things would have happened quicker for me, I never would have had that experience.
How tough was it to get that perspective?
I think everybody's just got a different path. At least at the time, I was learning so much, I just knew it was going to help me at some point to reach that goal. Just from those experiences, I don't have a pressing mindset. This has gotta happen, this has gotta happen. If I can just keep learning, and keep trying to be the best tight ends coach I can be and eventually people notice and hopefully your team has success, that's how people generally move up, but if you could just be great in your role, your role on the staff, how you help when it comes to installing, if I can just make a good reputation for myself in those areas, people will notice.
Have you ever doubted your ability just based on your last name and being the son of a head coach, that the perception was you didn't earn your job?
The way in any business that people get hired is you know someone. I was fortunate enough to know someone who was actually hiring. People ask me sometimes what's the best way to get in the NFL. The best way is for your dad to get a head coaching job, and that's the ideal way. Is it nepotism? Sure, it is. I think it's only natural. Dads have sons that are in the business and they hire them in a lower level position in that business to learn, and train and eventually move up. Most people look at it as a positive when it's in other areas. If you have someone working on your house, a carpenter, and he said oh yeah my dad was a carpenter, my grandpa's a carpenter, you'd probably think OK, this is good. For some reason, sometimes it gets looked at in a negative light when it comes to the NFL.
When you look at your current group, Jordan Reed has been healthy this season, but lacking in production. What do you attribute that to?
I think it's a number of things, but certainly when you have a new quarterback, it's been a learning process for all of us, from players to coaches. There's certain things that Alex is better at than previously we would call, and then there's things we're shifting away from. We're finding our identity week to week, and it's not to say we don't have an identity, it's just everything is getting refined more and more, and I think that's what's exciting about this year, is we've got an opportunity to continue to improve – there's real growth that I feel like we can have. He's on pace and on track to have one of these breakout games that we've all seen him have, it's just a matter of time.
You mentioned laying into the guys when you have to. With this group, including Vernon Davis, it doesn't seem like you need to.
Absolutely and I think the nature of the position, I don't think you see a lot of tight end groups that are – just that they have to be a part of the run game, pass protection, route running, they understand a lot of football, a lot of the issues that happen in a game. They understand that sometimes when you run a route, the issues that the quarterback, pocket collapses, he didn't have a chance to get it to you. For the type of players that Vernon and Jordan are, they're the most unselfish team guys and just good people that I've really been around in the sport.
What's your favorite drill to run?
From a drill standpoint you try to work the things that you have in the game plan, techniques that are going to be a little different, or thing you know you need to improve on. I try to just keep it going as far as, this is what we expect.
I was thinking you might say punching the football with the pads on your hand.
Yeah, well I do get a kick out of that. Sometimes I just get them in the face mask. Ball security is a day to day to day thing, but it is a reminder that it is important.