The Redskins have signed seven players to their practice squad -- and all seven were among the team's final roster cuts.
The Redskins can sign one more player to their practice squad to reach the maximum of eight.
The team's first practice in preparation for the Week 1 game vs. Dallas is Monday afternoon.
Here is the complete list of practice squad players signed by the club on Sunday:
-- Terrence Austin, WR
Austin, a UCLA product, was the first of three seventh-round draft picks by the Redskins in the 2010 NFL Draft. He led the offense with 10 receptions for 146 yards and one touchdown in preseason.
-- Selvish Capers, OL
Capers joined the Redskins as the third seventh-round draft pick in 2010. He played right tackle at West Virginia, but he transitioned to left tackle during training camp. Then in the last week of preseason he earned playing time at left guard.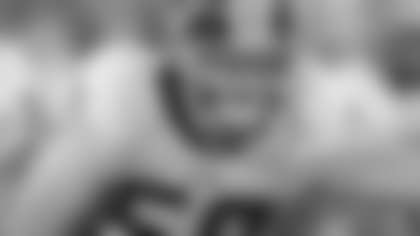 -- Erik Cook, C
Cook, a New Mexico offensive lineman, was the Redskins' second seventh-round draft pick in 2010. During training camp, he saw action at both guard and center. In the Redskins' preseason finale against the Arizona Cardinals, he started at center.
-- Rob Jackson, LB
Jackson was a seventh-round draft pick by the Redskins in 2008. He has spent time on the Redskins' roster and practice squad the last two years. He has played in five NFL games for the Redskins, posting one tackle in a reserve role. In preseason this year, Jackson had seven tackles and one sack.
-- William Robinson, OT
Robinson joined the Redskins' practice squad last September and was promoted to the roster in December. He played in one game, stepping in at right tackle. During training camp and preseason this year, Robinson was backing up at left tackle.
-- Anderson Russell, S
Russell was an undrafted rookie out of Ohio State. Lining up at free safety, he showed promise during preseason, posting 11 tackles on defense and four more on special teams to tie for the team lead.
-- Ryan Torain, RB
Torain signed with the Redskins last offseason after playing for Mike Shanahan in Denver in 2008. That year, Torain played in two games for the Broncos, with one start, and rushed for 69 yards and one touchdown on 15 carries. In preseason this year, Torain had 94 yards on 28 carries and one reception for 22 yards.