On Tuesday, Greg Blache hinted that Carlos Rogers might finally be healthy enough to play in a preseason game.
"He is in pretty good shape," Blache said. "Keep your eyes peeled on him. You might see him on the field."
Rogers is coming back from a knee ligament injury suffered last season. In recent weeks, he has increased his practice workload, participating in all of the individual drills and most 11-on-11 work.
Despite the hint of optimism from Blache, Rogers remains a question mark for Saturday's preseason game against the New York Jets.
The game is played at the Meadowlands, which has a FieldTurf surface. FieldTurf is a synthetic turf field that has a mixture of rubber and sand underneath it. It is regarded as a more safe playing surface.
But Rogers has worked primarily on grass fields since returning from his injury.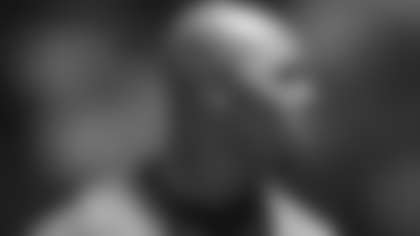 Carlos Rogers (Greg Fiume Photo)
Coaches may not want Rogers to test his surgically repaired knee for the first time on an artificial surface.

"I'm preparing like I'm going to play, but I'm not sure if they're going to let me go," Rogers said. "If I do, it'll probably be for a series or two. Hopefully I can get out there.

"But it's a different surface, so I don't know if they really want to let me out there."

Added Jim Zorn: "If Carlos does get in, it will just be for a couple of plays. I'd like to wait. I'm not ruling him out, but it may be a pre-game [decision] where we get him ready at pre-game and then we shut him down when the game starts."

It's more likely that Rogers will play in the Aug. 23 preseason game against the Carolina Panthers.

The Panthers play at Bank of America Stadium, which has a grass surface.

It's remarkable that Rogers is even being considered to play in preseason, given the severity of his knee ligament injury.

Some thought the 6-0, 194-pound cornerback might open the season on the Physically Unable to Perform list.

Rogers rehabbed all offseason and picked up the practice pace early in training camp.

Blache admitted it was hard to watch Rogers take a hit the first time he returned to practice.

"The first time he went down, I remember gasping," Blache said. "But he bounced right back up. And each time he goes down, he comes right back up. You don't worry about him anymore. He's ready."