"Every time we do something, we go all out," said George Pagonis, the former "Top Chef" contestant and executive chef at Washington, D.C., Greek restaurant Kapnos.
The something on Sunday was a Redskins tailgate, an annual gathering of Pagonis' friends and colleagues complete with enough food and drink for an entire week. But this one, hosted on the Redskins' season opener, was a little more special.
That's because Pagonis, in conjunction with the Washington Redskins Charitable Foundation, offered up this tasty experience as an auctioned-off item at the Redskins Welcome Home Luncheon two weeks earlier. Taylor Chess, President of Retail for Peterson Companies, was quick to pounce on the opportunity.
"We're always watching the new hot trends," Chess said. "What I see in the retail development, what these individual chefs are doing around the D.C. area, is creating unique places. So I wanted to get to know them better, respect what they're doing, and I wanted to support  what they're doing, plus know them from a business standpoint."
Pagonis and his company more than upheld their bargain.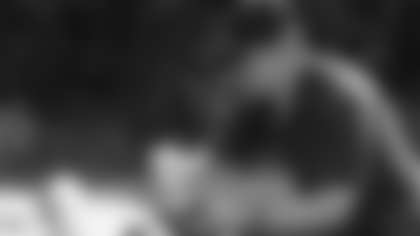 Among the items spread out over to picnic tables were a three-foot gyro sub, pita chips and hummus, pasta salads and even some octopus appetizers. On the grill brought two varieties of barbecue pulled pork and lamb gyros, plus several options for cocktails and drinks.
"It works out great this way that the Redskins invited me because I'm such a big Redskins fan that to me, it's an honor to be doing something with them," Pagonis said. "Especially being in the D.C. area, we have affiliations with the Capitals, Wizards, and Nationals, but we've never had it with the Redskins. We're very excited for the relationship to start."
In reality, the set-up was no different for Pagonis than if his experience hadn't been sold to bidders. Pagonis pointed out his party's members, who included his brother Nick, the director of operations for his company, Adam Howard, a corporate chef for Kapnos, and several childhood friends.
They're all extremely busy during the whole week and the restaurant business doesn't pause for their leisure. But they make an effort to come out to a few games each year, grill, drink and enjoy each other's company outside of the kitchen for a change.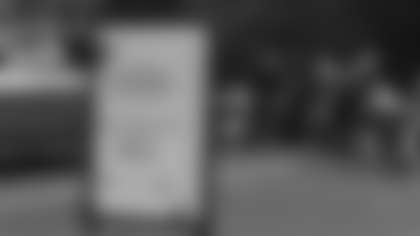 Pagonis was also a football player in high school, a little heavier, too, said Adam. That's why when he was offered a customized burgundy jersey, Pagonis chose number 72. He played offensive lineman, right tackle to be exact.
"My father is a Greek immigrant, so he really wasn't the one who made me a football fan," Pagonis said. "So my friend Mark here, his father brought me to my first game. They had season tickets growing up as kids, so they would bring me and my brother with them. We started liking football, and then my father started watching and liking football, so he started coming to the games. It kind of came a little differently than the average American family, but you know, you stick with your team and here we are now."
That kind of loyalty, and the passion Pagonis and his crew have in expanding their ideas throughout the DMV region (expect a place in the Fairfax Mosaic district soon), is what made Chess want to connect with them, and give to a good cause at the same time.
"[The reason to donate] was multi-faceted from my perspective," Chess said. "[It] helps out the charity [and I] get to go to a Redskins game, with my kid and friends and my colleagues…It's all about the experience."