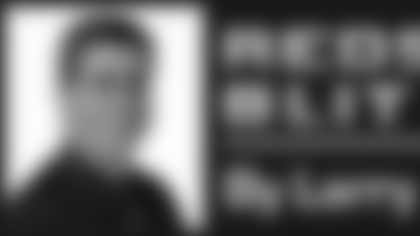 With the third preseason game approaching and NFL teams looking at a roster cut from 80 to 75 on Sept. 1 and to 53 on Sept. 5, coaches and personnel directors can barely squeeze in a nap.
There's tape of the last game to look at. Some game-planning to do for the upcoming date, in which starters will take the field for at least a half in most cases. There are youngsters to eyeball, prospects who might yet be able to make the case for sticking around.
The quest for talent never ends. When the cuts come in, teams will move those names around on their boards, make some phone calls and perhaps bring in a few of those who failed to find their destiny elsewhere.
It takes more than talent to win in the NFL. There's a need for the three Cs--coaching, coherence, chemistry. A good staff can utilize its best players well and make the most of the ones with lesser skills.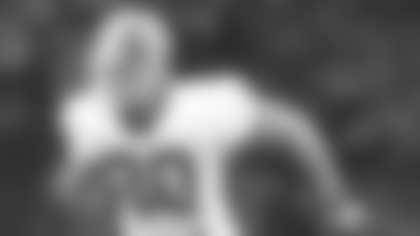 LaRon Landry was the sixth overall pick in the
2007 draft. (Ned Dishman Photo)


Coaching is all about putting the players in the best position to have success. Coherence is simply having a mission everyone understands and works toward. Chemistry? That's the feel of a locker room when players like and appreciate each other, police themselves and hold the next man accountable.
Go back to talent for a minute, though. The more, the merrier. Look at the most recent class of player inductees into the Pro Football Hall of Fame.
Defensive end Bruce Smith was the first player picked in the 1985 draft (by the Buffalo Bills) and, while wearing the Redskins uniform for the final four years of his career, became the NFL's all-time sack leader.
Another relentless pursuer of passers, linebacker Derrick Thomas was the fourth overall selection in 1989 and a nine-time Pro Bowl pick for the Kansas City Chiefs.
Defensive back Rod Woodson was picked 10th by the Pittsburgh Steelers in 1987 and went to 11 Pro Bowls in a 17-year career. Guard Randall McDaniel, a 1989 first-round choice of the Minnesota Vikings, made 12 Pro Bowls.
Of this year's class, the only player not a first-rounder was receiver and kick returner Bob Hayes, the Olympic sprinter that the Dallas Cowboys grabbed in 1965 in the seventh round after Hayes won gold in Tokyo.
When it comes to talent, the Redskins enjoy an embarrassment of riches. They have more No. 1 and No. 2 picks on their current roster than any other team in the NFC East. They count a dozen first-rounders and 11 more players chosen in the second round.
"Defensively, they are as good as any team we will face," says New England coach Bill Belichick, who brings the Patriots to town for the third preseason game on Friday night at FedExField.
Belichick tries to run down the list of names quickly but gets caught in an extended rap. Safety LaRon Landry, he says, "is really an impact player." Carlos Rogers and DeAngelo Hall are "as talented corners as there are in the league." He does not neglect the front four and Albert Haynesworth, Andre Carter and Cornelius Griffin.
Now, the Redskins didn't draft all these ones and twos. Clinton Portis came in a trade and several more via free agency. Not all may make it to the opening-day festivities in East Rutherford, N.J., against the New York Giants. Defensive end Renaldo Wynn, offensive tackle Mike Williams and linebacker Robert Thomas seem to be in fights for jobs. None was originally a Redskins selection.
When a former first-round pick hits the market, there's always a reason. Might have been in the wrong system. Or a coaching change produced a bad fit. But a former No. 1 is usually worth a look.
"You know that at some point he was highly regarded," says Cleveland Browns coach Eric Mangini. "You don't really know why he's available at that point. When you do look at him, you look at what he's done since he's been in the league and then try to figure out where he'd fit in terms of your scheme. Then you have to bring the guy in, get to know him, see what his approach is."
The Dallas Cowboys would be next in line in the division, with their 11 No. 1 picks, four of whom were signed as free agents. They have four No. 2s. The New York Giants show five No. 1 picks and nine second-rounders. Six No. 1s and eight No. 2s dot the Philadelphia Eagles' roster.
The Redskins, barring injuries, will start three No. 1 picks in the secondary in Rogers, Hall and Landry. They'll have No. 1 picks at two d-line spots (Carter, Haynesworth) plus a No. 2 in Griffin. Linebacker/defensive end Brian Orakpo is this year's No. 1 and he'll be joined at linebacker by Rocky McIntosh, a No. 2. When the Redskins put extra defensive backs on the field, they add another No. 2 in Fred Smoot.
That's just the defense. Starting on the other side of the ball are No. 1s Jason Campbell, Chris Samuels and Santana Moss. Campbell is backed by a No. 2 (Todd Collins) and Antwaan Randle El, a No. 2 pick, is trying to keep one of two No. 2s from last year (Malcolm Kelly and Devin Thomas) from siphoning off his playing time.
You know that TV show called "America's Got Talent." They could shoot it in the NFL and call it "Washington's Got Talent." Let's see how the ratings are.
REDSKINS FIRST-ROUNDERS
Player
Year Drafted
Team
Jason Campbell, QB
2005
Redskins
Andre Carter, DE
2001
49ers
DeAngelo Hall, CB
2004
Falcons
Albert Haynesworth, DT
2002
Titans
LaRon Landry, S
2007
Redskins
Santana Moss, WR
2001
N.Y. Jets
Brian Orakpo, LB/DE
2009
Redskins
Carlos Rogers, CB
2005
Redskins
Chris Samuels, OL
2000
Redskins
Robert Thomas, LB
2002
Rams
Mike Williams, OT
2002
Bills
Renaldo Wynn, DE
1997
Jaguars
REDSKINS SECOND-ROUNDERS
Player
Year Drafted
Team
Ladell Betts, RB
2002
Redskins
Todd Collins, QB
1995
Bills
Fred Davis, TE
2008
Redskins
Cornelius Griffin, DT
2000
N.Y. Giants
Malcolm Kelly, WR
2008
Redskins
Rocky McIntosh, LB
2006
Redskins
Clinton Portis, RB
2002
Broncos
Antwaan Randle El, WR
2002
Steelers
Fred Smoot, CB
2001
Redskins
Randy Thomas, G
1999
N.Y. Jets
Devin Thomas, WR
2008
Redskins
---
Larry Weisman covered professional football for USA TODAY for 25 years and now joins the Redskins Broadcast Network and Redskins.com to bring his unique viewpoint and experience to Redskins fans. Go to Redskins.com for the Redskins Blitz column and NFL Blitz on Friday. Larry also appears on Redskins Nation, airing nightly on Comcast SportsNet, and on ESPN 980 AM radio, both in the Washington, D.C. area.