Rev. Joe Ellison Jr. wanted a way for the Richmond faith community to show their support for the Redskins, so he reached out to the team's chaplain, Rev. Brett Fuller, a friend of his for the last nine years.
Fuller, believing strongly in Ellisons's desire to engage the city's evangelical faith community, spoke Tuesday at the second annual "Faith, Family, and Football" luncheon event, held at Richmond's U-Turn Sports Academy.
The event, hosted by Ellison, who does chaplain work for NASCAR, featured Redskins President Bruce Allen and running back Alfred Morris along with more than 200 people, giving those in attendance an opportunity to hear testimonies from "the President's heart," as Ellison said, and from a Christian athlete.
Allen and quarterback Robert Griffin III received awards that afternoon, and on Wednesday, the faith community continued to show its appreciation, honoring Redskins owner Dan Snyder and Jane Rodgers, executive director of the Washington Redskins Charitable Foundation, with awards of their own.
"What we've done over the last few years is establish a relationship with sports and young kids," Ellison said. "It's important for me personally to encourage the team. I'm always praying not only for the players, but I'm praying for the administrators, the staff and the new generation."
As opposed to other organizations, which hold their training camps in suburbs or college campuses, the Redskins' dedication to Richmond, Va., as a destination for football practice and continued charitable work has inspired Ellison, his church, Essex Village Ministries, and the Richmond Faith Leaders to continue the same kind of commitment in their communities.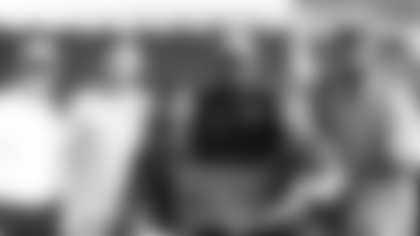 So far, they've been able to bring thousands of kids to training camp, connecting them with the sports academy, and pointing them in the direction of players like Morris and Robert Griffin III, who have been open about their faith.
"It means a lot," said Rev. Calvin Duncan of Faith and Family Church. "It brings back memories when I was a young boy in New Jersey and I had the opportunity to get up close and personal with Dr. J. We did a clinic right in the inner city and it left an impression on me. And these young kids coming out here, they get close, and then they believe, 'You know what? I can do it.'"
"It's a special experience really," said Kris Wheeler, President of U-Turn Sports. "It goes beyond that. It goes to a connection point of making a partnership with them. Just being available and providing access to them and being just an extension of the community and being a resource for them when they call upon us."
The awards, nicely boxed and presented, and with Vince Lombardi's immortal words about winning engraved, symbolized the gratitude Ellison hopes to convey and the willingness to give back to a team that has helped revitalize Richmond.
"We wanted to come and share with Mr. Snyder how much we appreciate him," Ellison said. "He told me personally that he has made a commitment to the city and we want to be in agreement. Even today, I was very excited about the dedication of the new playground. It's a win-win situation and we will do all we can from the evangelical community to support our team."