The Redskins' goal in the NFL Draft was to get younger and add talent to the roster, regardless of position.
No pick signified that approach more than safety DeJon Gomes, the team's fifth-round draft pick (146th overall).
Safety was regarded as a position of strength on the Redskins' roster, so the Gomes pick was a mild surprise.
"We were going to follow the draft board," general manager Bruce Allen said. "We went by the grades that we had worked on for 6-7 weeks leading into it."
Even so, the Redskins now have great depth at both free and strong safety.
In early March, the Redskins signed top-tier free safety O.J. Atogwe after he was released by the St. Louis Rams.
Atogwe is regarded as a ball-hawk. In his 6-year career, he has recorded 22 interceptions and 16 forced fumbles. Plus, he is very familiar with defensive coordinator Jim Haslett's scheme from their time together in St. Louis.
Atogwe will be paired with strong safety LaRon Landry as the Redskins' starters.
Landry transitioned to strong safety last season and emerged as a Pro Bowl-caliber talent, posting 101 tackles, one sack, one interception and one forced fumble in just nine games. He was sidelined late in the season due to an Achilles injury.
Gomes is certainly not expected to compete for a starting job, but he does provide great depth to the secondary.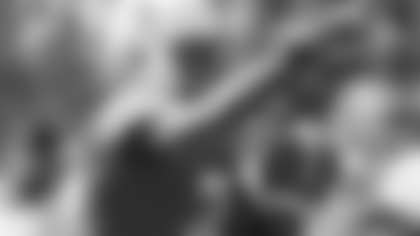 In college, Gomes had experience at both safety positions as well as cornerback and linebacker.
"He's a very smart player, edgy player, and he comes up with a lot of big plays," head coach Mike Shanahan said of Gomes. "Just talking to the coaching staff, talking to the players, he's one of those leaders that can tell you what everybody does on every play."
If Gomes develops quickly, he could see playing time in certain defensive packages this season. His most immediate impact should be on special teams, though.
"Not only do we get a guy that can run in that 4.5 range, but we also get a guy who is very football knowledgeable," Shanahan said.  "I think he'll help our football team, not only at [defensive back], but also special teams as well."
Along with Atogwe and Landry, the Redskins have Kareem Moore, Chris Horton, Macho Harris, Russell Anderson and Sha'reff Rashad at safety. Reed Doughty is also on the roster, but he could be a free agent and it's uncertain if he's going to return next season.
Moore played in 12 games, with 11 starts, last season and logged 65 tackles and one interception but he was slowed by a knee injury at times.
Doughty played in 15 games with nine starts and finished with 84 tackles and one sack.
Horton, a standout as a rookie in 2008, suffered a season-ending ankle injury in Week 8. He had served on special teams most of the season. It was the second year in a row that Horton's season ended early due to injury.
Each of the backup safeties will have to prove themselves on special teams in order to secure a roster spot in 2011.
"You want special teams in their background," Shanahan said. "The more depth in those areas that you can handle, the better you're going to be."