Chris Samuels suffered a stinger injury to his neck early in the first quarter of Sunday's game against the Carolina Panthers.
Samuels watched the rest of the game--a 20-17 Redskins loss--from the Redskins' bench.
He was replaced by D'Anthony Batiste in the lineup.
Samuels' status will be updated by head coach Jim Zorn on Monday
The injury occurred on the Redskins' second play from scrimmage, a 10-yard touchdown pass from Jason Campbell to Clinton Portis.
Samuels was on his back for several minutes as athletic trainers evaluated him and several players kneeled beside him.
Samuels eventually walked off the field without any assistance. He went straight to the bench.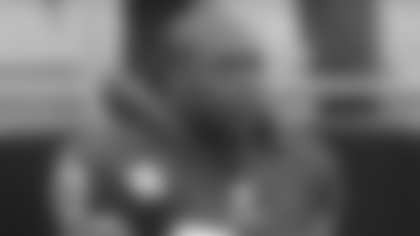 For Batiste, it was his first action of the season. He had been deactivated all four games this season.
Batiste, a third-year lineman, showed some rust early on when he was beaten by rookie defensive end Everette Brown for a sack.
In what turned out to be a critical penalty, Batiste was flagged for illegal formation when he lined up incorrectly on a 3rd-and-11 play.
The penalty nullified a 17-yard pass from Jason Campbell to Antwaan Randle El.
Batiste drew the ire of offensive line coach Joe Bugel, who screamed at Batiste from the sidelines.
Next play, Campbell completed a 13-yard pass to Fred Davis to set up 4th-and-3.
Jim Zorn opted to go for the first down, but Campbell's slant pass to Santana Moss was batted away at the line of scrimmage.
The Panthers took over possession of the ball--and momentum.
In addition to Samuels, Rocky McIntosh suffered a stinger to his neck on a play in the third quarter. McIntosh was able to return to the game, though.