It was a match made at the NFL owners meetings.
Redskins owner Daniel M. Snyder and Mike Shanahan would see each other every year at the meetings, primarily because the tables for the Redskins and Denver Broncos--the franchise that Shanahan guided as head coach from 1995-2008--were positioned directly across from each other.
One time, Snyder sat across from Broncos owner Pat Bowlen, with Shanahan at Bowlen's side, and joked, "I want to trade for your coach."
Said Shanahan: "Pat looked at me and said, 'Don't pay any attention to him.'"
Apparently, Shanahan was paying attention.
Perhaps the seed was planted.
On Wednesday, Shanahan signed on with the Redskins as executive vice president/head coach, replacing Jim Zorn who was dismissed on Jan. 4. He brings leadership, discipline and a legacy of winning that includes two Super Bowl championships with the Broncos.
"I'm excited and honored to be the head coach of the Washington Redskins," he said in a jam-packed auditorium at Redskins Park. "I promise you, I won't disappoint you. I'm going to give it everything I've got."
Shanahan joins executive vice president/general manager Bruce Allen in a new front office hierarchy at Redskins Park. Allen joined the Redskins on Dec. 17, replacing Vinny Cerrato.
Shanahan and Allen are taking the team in a new direction, one sorely needed after a 4-12 campaign in 2009.
When Snyder, Shanahan and Allen walked into Wednesday's press conference, they shook hands and then Snyder stepped away and sat in the audience as Shanahan and Allen took center stage.
This was a clear departure of press conferences past.
This signaled that Shanahan and Allen were clearly the decision-makers of this new regime.
"Obviously the last two years we really have disappointed and I think it's time to really build," Snyder said during an interview with Larry Michael on "Redskins Nation" on Comcast SportsNet. "We've got the foundation here now, with Bruce and Coach Shanahan as our leaders."
It's an organizational structure that Shanahan agreed was comparable to the dynamic of the 1980s Redskins with owner Jack Kent Cooke, general manager Bobby Beathard and head coach Joe Gibbs.
"You want to get the best you can get at every position and I believe Bruce is the best at what he does," Shanahan said. "I want people to challenge me, assistant coaches as well as personnel people. We're going to get the best guy in charge of college [scouting], the best guy in charge of pro [scouting] and hopefully we can do something special."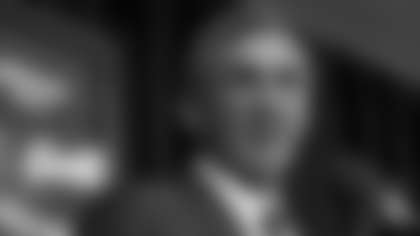 Who has final decision-making authority on football operations? The question came up several times on Wednesday.
Shanahan acknowledged that he has final say, but suggested it would not matter because of his partnership with Allen.
"Do I have final say? Maybe you could say that, but you know what, together I would never use that because we will work as a team," Shanahan said.
Along with the new front office hierarchy, Shanahan discussed the type of personnel an organization needs to be successful.
He expects to draw upon his successes and failures during his 14-year tenure with the Broncos.
"Anytime you are a head football coach for 14 years, you make some mistakes, you do some good things, and you kind of get an idea on what it takes to be successful as an organization," he said. "You're looking for that consistency. You're looking for discipline in your program. You're looking for those athletes that are positive, that are passionate on what they are doing.
"We're the Redskins. If we have any problems, it stays within our football team. Nobody goes outside the football team. It's going to be a strong, disciplined football team, I can tell you that."
Asked about the assistant coaches currently on the staff, Shanahan said he wanted to meet with them before deciding whether to retain them.
"I was an assistant coach for a lot of years, you understand how much time and effort goes into the assistant coaching position and profession," Shanahan said. "I'll get a chance to get a good feel for this staff. I am not going to make very many staff moves right away. I want to take my time."
The same approach holds true for the team's scouting staff, he said.
"We're going to take a look at everybody," Shanahan said. "We're going to find the best at every position and if we don't have people willing to make that commitment, then we'll have to make some changes."