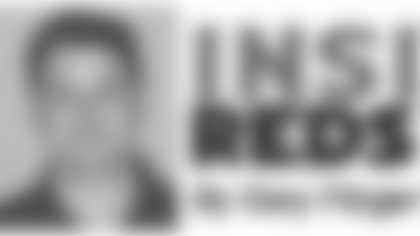 In one of the few bright spots for the Redskins on Sunday, rookie Devin Thomas scored his first NFL touchdown.
To everyone's surprise, the touchdown came on a run play--not a pass.
Midway through the second quarter, the Redskins used some trickery to combat the Giants' aggressive defense.
At the Giants' 29-yard line, Jason Campbell handed off to Ladell Betts on a sweep, but Betts pitched the ball into the arms of Thomas.
Thomas swept around right end and found open field. Campbell was leading the blocking downfield and nicked safety Michael Johnson.
Santana Moss also had a key block on cornerback Corey Webster to shield him from making the tackle on Thomas.
Approaching the goal line on the right sideline, Thomas got past Johnson and two other Giants defenders and dove into the end zone for a 29-yard touchdown run.
After the game, Jim Zorn said he put the play in specifically for this Sunday's game against the Giants, although he has other wide receiver reverses in his playbook.
"I was happy to get into the end zone," Thomas said. "I knew Jason was going to take care of somebody for be blocking downfield. It was a good play. It was wide open."
Thomas saw plenty of action in Sunday's game, along with Malcolm Kelly.
The Redskins' rookie wide receivers are increasingly working themselves into the offense after slow starts.
Santana Moss had four catches for 55 yards and Antwaan Randle El had four catches for 37 yards to lead the wide receiver corps in the game.
Thomas expressed frustration that the Redskins' offense was not able to generate more scoring against the Giants.
"It's frustrating," he said. "The defense did everything they could, but we put them in a bind."
After Thomas's touchdown, the Redskins had momentum late in the second quarter.
Mike Sellers impressed when he hurdled a Giants tackler for a 29-yard gain.
Then, with less than 30 seconds in the first half, Campbell guided the offense downfield to get into a field goal range.
But Shaun Suisham missed a 42-yard field goal.
In the second half, it seemed the Redskins' momentum had dissipated in the steady rainfall.
"I felt like we were about to [get rolling]--Mike was hurdling guys and we were moving the ball," Thomas said. "Coming into the second half, it wasn't there. We just have to keep working."