They went back to work on Wednesday and Thursday after searching their souls, looking in the mirror, promising more accountability.
This is about "where you finish, not where you start." It's about "the intricacies, the little details."
Nothing that can't be overcome. Nothing that can't be fixed.
After all, "we've shown we can play hard but if you don't play smart, you're not going to win."
All that self-awareness. All that understanding. You feel a little better as a Redskins fan, don't you?
Those specific comments, however, don't come from the Redskins. That's the Tampa Bay Buccaneers talking, seeking answers nearly as desperately as the Redskins.
They meet Sunday at FedExField, moving almost like parallel lines. The Redskins have scored three points in the first quarter, the Bucs none. Both have lost to the New York Giants. They're looking at each other as perhaps the last best chance to right a listing ship.
They were opposites a year ago. The Bucs shot out to a 9-3 record, lost their last four games and missed the playoffs. Ownership fired coach Jon Gruden and general manager Jon Gruden, made a surprise coaching hire in Raheem Morris, jettisoned quarterback Jeff Garcia and drafted a quarterback No. 1 in Josh Freeman.
The Redskins launched at 6-2, came home at 2-6. They did not make the playoffs. They kept their coach, noodled around in the quarterback market but retained Jason Campbell, tried to bolster the roster in a few key spots.
How different are the results? The Redskins are 1-2, the win a narrow one by 9-7 against the St. Louis Rams, a team with a 13-game losing streak. They also lost to the Detroit Lions, previous owners of a 19-game losing streak.
The Bucs are 0-3. Creamed by the Dallas Cowboys, competitive against the Buffalo Bills, mauled by the New York Giants.
Neither shows the ability to sustain drives. Both are among the poorer NFL teams in time of possession, with the Bucs averaging 26:14 and the Redskins 27:19. Both were seriously on the wrong end of that stat last week, with the Bucs holding the ball for less than 17 minutes against the Giants and the Redskins posting 23:12 against the Lions.
Neither, however, has big problems. Or so they say. It's all fine stuff, the devil in the details. Believe that at your own peril.
"Have we shown our potential? We haven't got to that point yet," says Redskins quarterback Jason Campbell.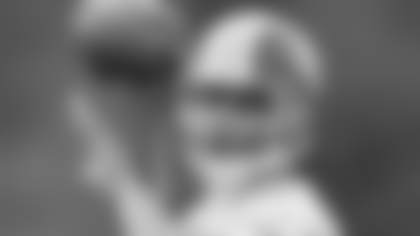 The implication: It will happen.
"I don't think anyone ever anticipated getting off to a slow start," says Bucs cornerback Ronde Barber. "It's a lot of little things."
Some day, some way, we will squeeze their inner sentiments from the guys in pads. Maybe it will take a squirt of truth serum in the Gatorade. Then the responses might jibe with performance.
Imagine if a struggling team, pressed to explain it, coughed up these hairballs:
"We couldn't block four old grandmas with our red-zone scheme."
"Half of our guys are only interested in cashing their paychecks. The other half don't even care about that."
"With us, it's not a lot of little things. We don't do the big things well – run, catch, block, design schemes and execute them. We don't work that hard and our attitude bites."
That's not the contention here about either the Redskins or Bucs. It's way too early for quittin' time, though every locker room has a couple of weasels and front runners.
The only visible truth will emerge Sunday at FedExField. One of these win-starved clubs should invoke will as much skill and find fire in desire. They will "want it more." That might be enough to get it.
The Bucs rank 25th in offense and give a first career start to second-year quarterback Josh Johnson. They rank 31st in defense. Both of these should look like engraved invitations to the Redskins to heal their scoring woes and their defensive lapses.
A Redskins victory would even their record at 2-2. Not great, but really not so far off the reasonable expectation of 3-1 at the NFL season's quarter pole. Next up would be the winless Carolina Panthers and then the Kansas City Chiefs, also winless and likely to be softened up further by the Giants and Dallas Cowboys in the coming weeks.
Imagine the Redskins at 4-2 after the shrieks of agony from the fans and media (this hysterical nut included) over the past two weeks and into this one. Super Bowl bound! Fan ecstasy! Hail the conquering heroes.
Must win this one first. And with some style. They must be .500 Sunday night and win the eminently winnable games before they start to see the meat of the schedule, a treacherous path that starts with the Philadelphia Eagles and includes the Atlanta Falcons, Denver Broncos, Cowboys and Eagles back to back and New Orleans Saints.
Teams can start poorly and right themselves with no one really knowing whence came the spark. The 1992 San Diego Chargers were 0-4, then won 11 of 12. The Eagles were 5-5-1 a year ago after a brief benching of Donovan McNabb but finished 9-6-1, won two playoff games and reached the NFC championship game.
It is, as Bucs coach Raheem Morris says, "about where you finish, not where you start."
In that sense, for the Redskins, it starts Sunday. They cannot let that be their finish.
---
Larry Weisman covered professional football for USA TODAY for 25 years and now joins the Redskins Broadcast Network and Redskins.com to bring his unique viewpoint and experience to Redskins fans. Go to Redskins.com for the Redskins Blitz column and NFL Blitz on Friday. Larry also appears on The Jim Zorn Show on WRC-TV on Saturday night, on Redskins Nation, airing twice nightly on Comcast SportsNet, and on ESPN 980 AM radio, all in the Washington, D.C. area. Read his blog at redskinsrule.com and follow him on Twitter.com/LarryWeisman.